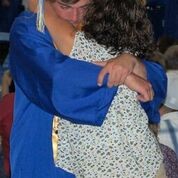 With Bringing Real Life to Treatment being one of the biggest goals – Building Bridges is proud to announce that nine of students will be walking across the stage to receive their diploma from Thompson Falls' Public High School.
Attending public school is just one way the students learn about transitioning once they leave Building Bridges. There are several opportunities for them to practice including playing HS sports, having a job and even going to prom and earning their dating privilege. Graduates are moving forward with plans of attending -Blinn College, University of Montana, and South Louisiana Community College. Other students are thinking about college while either completing a transition program, NOLS training this summer and working.
Not to take anything away from the younger students, Building Bridges also has two boys who attended the high school and will graduate from the program to return home to complete their senior year.
Congrats Grads!
Building Bridges is a Therapeutic Boarding School in Thompson Falls, MT for boys 13-18 with substance and behavioral issues. Our passion is creating a structure that mirrors real life with the goal to have the boys attend public school. Another unique piece is our Summer Adventure Program that is a combined eight weeks of being outdoors in the beautiful landscape that is Montana.
Visit www.buildingbridgesinc.net/ for more information.
---