Over the past four years, we have partnered with the Center for Research, Assessment, and Treatment Efficacy (CReATE) and the Arkansas Institute of Developmental Science in conducting a research initiative exploring the therapeutic effectiveness of wilderness therapy. Earlier this year, the data was compiled and we are very excited to share its findings.
This study collected clinical outcomes data from Trails students and parents between 2014 and 2019.
Student Outcomes Findings
The research initiative received reports from students about their symptoms, syndromes, and behavioral problems at four stages: their admission to Trails, graduations from Trails, 3 months after graduation, and 12 months after graduation.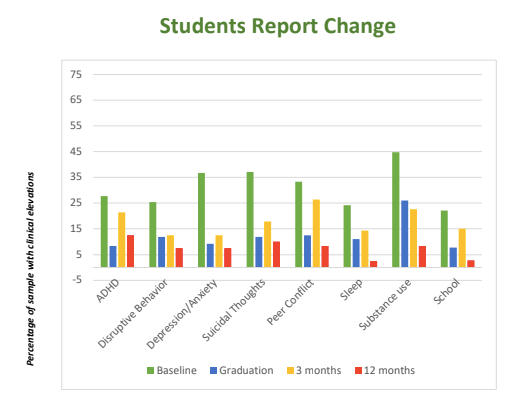 Upon admission:
44% of students reported clinical symptoms of a substance use disorder
33% of students reported significant symptoms of depression/anxiety, suicidality, and peer conflict.
25% of students reported clinical elevations in symptoms of ADHD, sleep disruption, and disruptive behavior disorders
One year after students graduated from Trails:
8% of students reported significant symptoms of substance use disorder
7% of students reported symptoms of depression/anxiety, 10% reported symptoms of suicidality, and 8% reported symptoms of peer conflict.
12% of students reported symptoms of ADHD, 7% reported symptoms of sleep disruption, and 3% reported symptoms of disruptive behaviors.
From the study, we were able to see a significant reduction of symptoms across all diagnoses. Symptomatic reductions persisted, and in most cases saw continuous improvement, for a full year following treatment at Trails.
More findings from this study will be reported in the coming months. Learn more about the research initiative and outcomes study by visiting trailscarolina.com/outcomes/.
Interested in learning more?
If you have any questions about the student outcomes study, please contact Admissions and Outreach Director Julia Andrick by emailing jandrick@trailscarolina.com or by calling 208-255-6920.