StrugglingTeens would like to welcome our newest advertiser, Rising Peak Academy!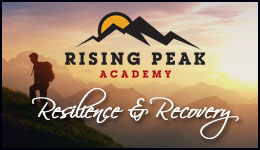 Located on the edge of Glacier Park in Northwest Montana, Rising Peak Academy is a long-term residential program that provides young men ages 13-18 the opportunities and motivation to succeed in life while dealing with co-occurring disorders including addiction, mental health, and behavioral issues.
Rising Peak Academy is built around a three-phase program that moves young men from Acceptance (Phase 1) to Action (Phase 2) then onto Resilience (Phase 3) and ultimately to Independence by participating in an Alumni program. Each phase is specific to the individual but is based on general principals and a foundation of the 12-step philosophy. The program focuses on healthy activity, academics, counseling, and life-skills that establish a foundation of recovery in each resident that attends the program. Along with academics, community events, recreation, and sober fun – the boys also attend and host AA meetings on a regular basis.
Key staff involved with this program include Matt Brekke, Program Director, Dr. Timothy Stutsman, Medical Director, and Mark Lyga, Clinical Director.
For more information on Rising Peak Academy, visit http://www.risingpeakacademy.com
For info on advertising or to open an account, contact Myrtle McLean at mmclean@strugglingteens.com.