By the Clinical Team
Open Sky Wilderneess
[This is a segment of an article. The full version of this partial article was originally posted at on the Open Sky Wilderness Therapy website at openskywilderness.com/]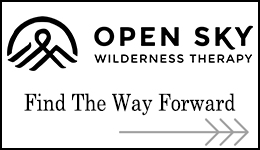 Open Sky Clinical and Family Services staff recently attended the training: "How to Talk about Cannabis Use in the Age of Legalization."
Attendees walked away from the training up to date on the latest research on cannabis use. They were educated on the risks associated with use amongst a clinical population or for those with comorbid diagnoses. In addition, the training addressed client arguments for cannabis use, preparing the therapists for the myriad of perspectives their clients come with to Open Sky.
The training, led by Clinical Therapist, Aaron Wallis, PhD, LP, also educated participants on the chemical properties and neurological effects of THC and various cannabinoids such as CBD.
Dr. Aaron's presentation provided a detailed framework on how to approach the topic of cannabis with clients when assessing their use. Due to notoriously poor self-reporting from clients, attendees were trained on a specific line of questioning to not only gain insight into one's frequency of use but also the dosage, methods of consumption, acquisition process, social factors, and other associated risk behaviors.
Read the full article at www.openskywilderness.com/training-cannabis-use/.