Contact:
Michael Morso
Owner/Founder of Petty Creek Ranch
Alberton, MT
406-722-3226
pettycreekranch@gmail.com
www.pettycreek.com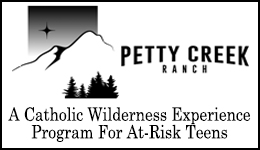 Petty Creek Ranch is a Catholic wilderness experience program for at-risk teenage boys, ages 12-18, that offers a wide variety of evidence-based treatment modalities for the young men who are in our care. Licensed by Montana's Board of "Private Alternative Adolescent Residential/Outdoor Programs (PAARP)" and in a strategic partnership with a local adolescent mental health practice, Petty Creek Ranch has a person-centered program philosophy that enables our clients to reach their full potential in an environment that is free from all drugs and alcohol, sexual distractions, and negative peer pressure.
Petty Creek Ranch was created as a response to some of the recovery-oriented concepts that have gained recent popularity in adult populations. We have designed our program to be 9-18 months in length that focuses on the "global health" of each client in terms of improving their physical, emotional, intellectual, and spiritual health. To do so, Petty Creek Ranch offers CBT, family support interventions, as well as equine therapy, adventure-based therapy, and reality therapy. We have also created a proprietary discharge planning process for clients with substance abuse issues that includes a home visit from our program director in order to establish continuing care networks in the client's home town prior to their discharge.
Petty Creek Ranch can address a variety of maladaptive behavior, including oppositional/defiant disorder, depression, suicidal ideation, divorce reaction, anger management issues, and substance use disorder. We also offer a home-schooling curriculum from an accredited Catholic high school to ensure that no child falls behind in academics while in our care. With the goal of community reintegration in mind, Petty Creek Ranch also has an extensive volunteer aspect to our program that gives our boys a chance to perform charitable works while in our care.