New Video Highlights Training
An important aspect of the PQ model is staff development and the opportunity to learn and grow alongside our students.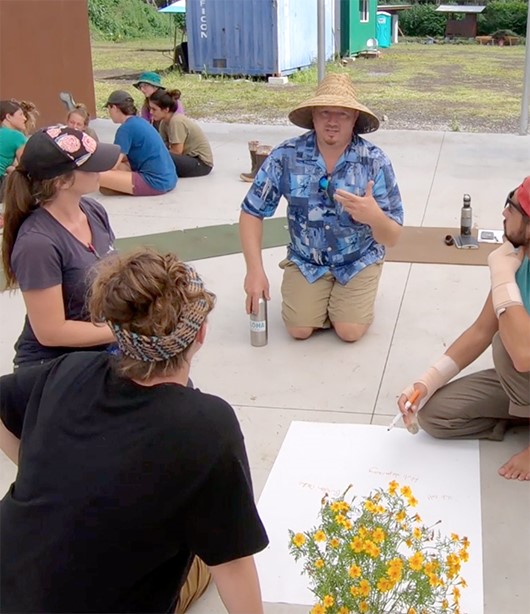 Staff members recently participated in a company-wide training focused on Horticultural Therapy and Rites of Passage. It was a great opportunity for the team to come together on our new farm property and have time to connect while learning new skills and strategies to work with our students.
The training began with an introduction to the Four Shields and the Neurosequential Model of Therapeutics that's utilized at Pacific Quest and an integral part of our program. After the intro, the team divided up and spent the morning at various "stations" that focused on different learning objectives. Staff members had the option of picking which workshop they wanted to participate in. Some of the options included: Meditation & Mandala workshop, Cordage and Ti lei making, medicine walk and planting skills, soil & compost, and hard project skills & "imagineering".
One of the main goals was to emphasize the importance of how to incorporate these various lessons and projects into the daily routine with students. PQ Field Therapist Sarah Blechman, MSSW, who helped organize and facilitate the training comments, "The whole day was so engaging! It was abundantly clear the facilitators were authentically passionate about the rich union and incredible effects of the interplay between horticulture, rites of passage and how to facilitate the two using the neurosequential model. My favorite part was when our program guides, managers and therapists all worked together to create our first garden bed in our ethnobotanical garden. Working on such a large project together felt like the whole community was working on a gift for our new farm."
Many thanks to Nick Vejvoda, Adolescent Field Manager, who made this video!