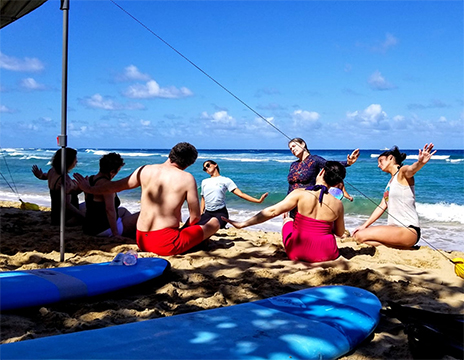 Last week, we were grateful for the opportunity to host 18 Educational Consultants on a tour and some adventure with Point School Puerto Rico. This took place before the start of a destination School Connections located on the island!
This adventurous group hopped in a van and came along for a Puerto Rican adventure of surfing, food and, of course, learning about our hybrid gap year model!
This tour and School Connections came just one week after Earthquakes on the south part of the island shook the media. Puerto Rico is safe for traveling and living. The earthquake did provide damage to the small towns on the coast nearest the impact. This area is about two hours from where we are located. Our town, Isabela, was only effected by some power outages caused by the electrical company preemptively in order to prevent power surges. We are grateful for this! We were without power for three days which was only slightly inconvenient as everyone has generators. (example of a slight inconvenience: I wanted to buy new hand towels for the PSPR house at Marshalls, but their generator was down so they were closed. I had to go to Walmart instead. Ugh. I hate Walmart!) (Also the wifi is spotty on generators and our guys couldn't play video games and had to play interactive games in the evenings instead!)
Please know that earthquakes are quite common in the Carribean. This being said, it is still valid and appreciated to have concern from all of the media coverage. If you would like to chat further about the earthquake impact, please to not hesitate to reach out to me!
Tracey Bachrach – Director
484.450.6878
tracey@pointschoolpr.com