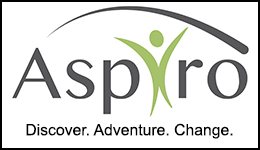 Aspiro is the pioneer of Wilderness Adventure Therapy offering short-term, intermediate treatment options for teenagers and young adults. Our intensive outdoor treatment program is residential in nature providing multidisciplinary treatment solutions that are safe, effective, and clinically sophisticated.
Learn more about Aspiro at www.aspiroadventure.com.
---
Job Title: Therapist
Department: Clinical
Reports to: Clinical Director
Primary Position Responsibilities:
Conducts weekly individual, family, and group therapy sessions.
Evaluate each student to better understand their strengths and weaknesses.
Communicate results to parents and referral sources to better understand the youth's needs and how to best intervene on the youth's behalf.
Create a master treatment plan and oversee field guides in their implementation of the treatment plan.
Identify the criteria necessary for parents and referral sources to recommend appropriate aftercare treatment.
Create a discharge summary of treatment including aftercare recommendations to help assist in the implementation of the treatment plan.
Certifications/ Qualifications:
Must be a Psychologist, LCSW, LMFT, or LPC licensed in UT.
Minimum of (5) years' experience with inpatient, outpatient, and/or mental health care preferable in a residential program setting and two years of post-licensure experience required.
Must have direct clinical and case management experience, group leadership experience.
Strong clinical and interpersonal skills, ability to lead and direct the work of others, and excellent written and verbal communication skills. Intermediate level PC skills required.
Education Requirements:
Master's Degree in Social Work, Psychology, Counseling, or a related field, or Ph.D. or PsyD. in Psychology from an accredited college or university.
Compensation:
Commensurate on experience
Kayleen RICHTER
HR / Regulatory Officer
O: 801.349.2740 C: 435.503.5520 F:801.460.0444
---
Field Guide
Department: Field
Reports to: Associate Field Directors
Position Overview:
The Field Instructor is responsible for managing the daily activities of an adolescent or adult group participating in a therapeutic wilderness program.
Primary Position Responsibilities:
Maintain line of sight of students at all times
Maintain the physical and emotional safety of the group at all times
Strive to meet students' therapeutic outcomes as directed by the student's primary therapist
Follow state regulations as outlined in the UT OL Code of Conduct and Clients Rights
Follow all Policies and Procedures as outlined in the Aspiro Policy and Procedure Manual and Supplemental Forms
Follow all Land Use regulations as specified in permits and state or federal law
Complete all required paperwork in a timely manner in accordance with state regulations; including medication administration records, student progress reports, incident reports, weekly summaries, etc.
Additional Responsibilities:
Attend all required staff trainings
Attend In-service training on the first day of shift
Attend weekly debrief at the conclusion of shift
Help maintain the cleanliness and upkeep of Aspiro properties and buildings
Inspect and maintain Aspiro gear and equipment as directed by the Logistics Department and follow the manufacturers recommendations for equipment
Other duties and responsibilities as determined by Associate Filed Directors
Leadership and/or Supervisory Duties:
Supervision of students on an eight-day wilderness expedition.
Certifications/Qualifications:
48 Field days outdoor youth program experience or comparable experience
CPR Certification
Standard First Aid and CPR Certification
Completed initial 80-hour staff training outlined in Utah Administrative Code R501-8-8
Attend all Aspiro Adventure Curriculum trainings
Background check through the State of Utah (BCI)
Driver's License
Driver's Record
Successfully pass a drug screening
Physical Requirements of Job:
Hiking long distances
Climbing/rock repelling
Mountain biking
Snow skiing
Lifting 50 LBS or more backpack
Driving a 15-passenger van
Extreme Heat or Cold
Stress on Knees / Joints and Ankles
Be able to use our physical restraint system "Aegis" to ensure student safety
Education Requirements:
High School Diploma or Equivalent
Minimum Age Requirement:
All Field Instructors must be a minimum of 21 years of age
Compensation:
Commensurate on experience
To find out more or to apply:
https://aspiroadventure.com/about-us/employment/
---
Logistics Coordinator
Mt. Pleasant
Commitment: Two years minimum
Tentative Start Dates: Training begins Aug 4, assume full-time role Sept 10

Expected Work Load: Average of 40-60 hours/week

Pay: salary to be discussed
Job Description: The Logistics Coordinator works to create more effective and efficient systems to better support the many Field Department needs. This position functions as a support role to the Logistics Director and Field Leadership Team.
Responsibilities:
Be present in Mount Pleasant each week by Sunday at 3 p.m. till Tuesday afternoon.
Field-House & Base-Camp Facilities Maintenance:

Building repairs

Coordinate contractors where necessary
Coordinate off-shift Guide opportunities and Injured Guide opportunities

Building Development

Motor Pool
Weekly itinerary vehicle assignment
Itinerary support:
Gear/equipment inventory and oversight

Aspiro issued

Ropes / Water / Snow / bike / Social Awareness

Resupply

Weekly facilitation from Sunday afternoon – Tuesday afternoon

Supply closet

Inventory
Issue / re-issue
Organization

Lost and found room

Inventory
Issue /re-issue
Organization
Other Duties:
Pro-deal acquisition

Ropes / water / snow / Bike
Tradeshow/gear advancement awareness etc

Be available for:

Emergency Response including the likelihood for multi night group support
A Call-In rotation every 4-6 weeks

Assist with logistics, transports, and other office duties as needed
Job Requirements:
Must meet Field Guide requirements, as well as the following:
Minimum of 8 month's on trial field experience
1 – 2 years relevant experience
25+ years old
Solution focused
Team player
Able to provide relevant, concise feedback
Developed interpersonal communication abilities
Advanced motivational interviewing capabilities
Strong capacity for leadership as well as collaboration within a group
Must take initiative and have strong follow-through
*NOTE: This list is not comprehensive. Responsibilities are subject to change based upon Aspiro's ever-evolving needs.
We expect all employees to actively live The Agreement.
Please email resumes and references to Joe Nagle at jnagle@aspiroadventure.com
About Aspiro
With treatment-specific programs located in Utah and Costa Rica, Aspiro's mission is to be the most clinically-advanced outdoor behavioral health program in the world, providing safe, dynamic, highly effective treatment modalities that are backed by empirical research. Aspiro Wilderness Adventure Therapy is a short-term wilderness program serving adolescents ages 13-17 and young adults ages 18-28 with varying degrees of social, emotional, and behavioral challenges.