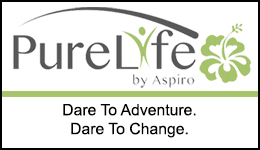 Pure Life Aspiro is an innovative Wilderness Therapy Adventure Therapy program located in the beautiful country of Costa Rica.
Primary Therapist

Description:
We are seeking a skilled therapist to join our dynamic team in 2018. This professional will provide individual, group, and family therapy to young adults ages 18-30 years old. In addition, weekly phone consultation to the client's family and referring professionals will be required. The therapist will be part of a treatment team and responsible for providing ongoing training to guides and other staff. Living in Costa Rica and occasional travel for marketing/educational purposes is required. Pure Life offers a competitive compensation package and an attractive, flexible work schedule with the opportunity to live/work/play in one of the most beautiful countries in the world.
Qualifications:
Master's degree with previous wilderness experience or PhD level clinical degree with is required. Experience working with adolescents or young adults, and their families in a clinical setting is expected, and training in positive psychology, family systems, and CBT/DBT is strongly preferred. Strong communication skills, the ability to manage a caseload, work independently and good interpersonal skills are required. Knowledge and experience in the outdoors is also preferred, along with a fun loving sense of humor!
Salary: Commensurate with experience
Category: Clinical
Location: Costa Rica (Central Pacific Region)
Contact Information:
Please send interest and resume to:
Andrew Taylor, Owner/Executive Director
ataylor@purelifeadventure.com
www.purelifeadventure.com