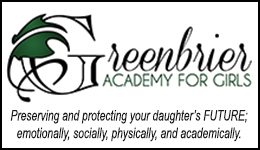 Greenbrier is an accredited academic and therapeutic boarding school and licensed non-acute treatment center that engages girls academically while allowing them to heal therapeutically. Clinically, our job is to remove and resolve non-acute anxiety, depression, emotional trauma, adoption/attachment, and body dysphoria dis-orders.
Because we specialize as a school and work with young women who're experiencing non-acute conditions, we are able to offer outstanding academics. Greenbrier is a place where old beliefs are shed and students learn to reclaim their lives.
---
Youth Counselors
Description: We seek Youth Counselors who can demonstrate virtuous role-modeling, a compassionate rapport with young people, and a commitment to being fully engaged in a boarding school community. Counselors will coordinate with students, teachers, and parents in developing and implementing each personal growth plan for a year-round caseload of up to 10 girls. For more information, please visit our website at www.greenbrieracademy.com.
Benefits: Because we value our team members and see them as the driving force behind our success, we offer a variety of benefits designed to fit your needs to include competitive wages, cutting-edge in-house training, medical, dental and life insurance, generous paid time off and a company meal plan.

Living in the Greenbrier Valley Our friendly hometown community is one of the safest places to live in the nation, offering affordable country living with plenty to enjoy. The Greenbrier Valley is home to the famous Greenbrier Resort, the annual West Virginia State Fair, and several tasty restaurants featured on the Food Networks Best of series. Lewisburg, the valleys county seat, provides a variety of public facilities to serve your needs, including the Greenbrier Valley Medical Center, a new 13,000 sq. ft. library and the New River Community and Technical College. Both Carnegie Hall and Greenbrier Valley Theater host an array of year-round cultural and artistic events. The pristine 5100-acre Greenbrier State Forest also holds a wealth of outdoor fun, and a 76-mile river trail, perfect for fishing, camping and hiking, are nearby. Located only two hours away from the Snowshoe Mountain Resort, the famous Homestead Resort and the city life of Lexington and Roanoke, Virginia, the Greenbrier Valley is the perfect place to call home.
Qualifications: We prefer MA or PhD-level licensed counselors, social workers, and psychologists with experience in family systems, adolescence, addictions, and/or wilderness interventions.
Applying: Send email and cover letter to HR Director, Amanda Brdlik, at abrdlik@greenbrieracademy.com.