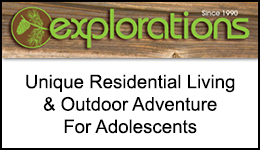 Explorations is a small, yet nationally recognized, residential and outdoor program for youth and families. We serve a diverse clientele, generally aged 13 – 18, who are referred to us by professionals from various areas of the United States. Students in our program live in a family-based therapeutic residential home and/or unique outdoor adventure learning environments. Parents and family members are active in our process through seminars and frequent visits. Our staff team is comprised of dynamic individuals who collectively support the positive growth of our students, are dedicated to the process of healthy change in families and are willing to participate with our students, our students' families and fellow staff team members in hands-on, positive and supportive ways.
---
Administrative Assistant
Position Description: The Administrative Assistant (AA) provides professional administrative support for the Director, staff team members, and personnel at teen care facility. The AA must have talent and an established history of strong, professional communication skills, both oral and written. Must have strong organizational skills, attention to details and timelines, with an ability to balance multiple priorities and sensitive topics in a highly professional manner. Works closely with the Director and must be able to work independently and efficiently, be able to self-start, and simultaneously be able to work collaboratively with Director and/or team. The AA is responsible to establish and manage all office operations to include, but are not limited to correspondence, meeting notes and agendas, receiving and scheduling visitors and tours, arranging conference calls and external communications with clients and vendors. Excellent customer service is a priority in all aspects of daily tasks. Serves as the custodian for all confidential records including personnel and student records. The AA assists the Director with special projects, policies and procedures, recruitment and hiring, admissions, website content, licensure and permits, service delivery, physical plant needs, and fiscal responsibilities. Some interface with students. Optimally, the AA is experienced with payroll, basic bookkeeping and is proficient in QuickBooks. The AA creates and maintains an office atmosphere that is informal, friendly and flexible while meeting high standards for completion of duties, service delivery and professionalism.
Wage: $13 – $16/hour DOE
Hours: 30 – 40 hours per week, as determined by job duties
Open Date: October 8, 2014
Experience: Minimum of 3 years administrative assistant in professional office atmosphere. Preference given to those with training and/or experience in Accounting, Payroll, Human Resources, Customer Service and/or Behavioral Health.
Education: High school diploma. Associated degree or higher preferred.
Attributes:

Flexible
Friendly
Personable
Self-starter
Works independently
Works collaboratively
Confident
Good common sense
Clean cut
Problem solver
Likes kids
Positive
Courteous
Essential Abilities:

High level of professionalism.
PC proficient to include: Word, Excel, PowerPoint, Outlook, QuickBooks.
Google Calendar proficiency.
Best Notes HIPAA compliant database system proficiency. Will provide training.
Excellent oral and written communication to include: spelling, grammar, punctuation skills, phone protocol, and high attention to customer service in confidential work atmosphere.
Ability to manage all office functions and complex clerical demand.
Oversee and determine needs for computer network.
Supervise and train additional administrative staff as needed.
Ability to simultaneously work independently and collaboratively.
Ability to manage multiple priorities within deadlines.
Ability and willingness to work with a diverse group of people.
Desire to work with families in need with empathetic attitude.
Excellent personal boundaries.
Ability to share work space.
Ideal candidate would have experience and proficiency in: QuickBooks, have training in Human Resources, and be experienced with payroll duties.
Shift: Optimum: M – F, 900a – 500p with flexibility to work occasional evenings and/or weekends as needed to meet program needs. Final schedule will be determined by assigned job duties.
Days Off: Saturday and Sunday
Work Schedule: Days
Openings: 1
Lifting Capacity: 20 pounds
Driver's License: Yes, with good record. No DUIs or similar.
Job Benefits: PTO + 7 paid holidays.
Endorsements: No
Commission: No
---
***All candidates must agree to a fingerprint background check, DMV check and authentication of credentials when applicable. Any candidate hired must be willing to participate in random drug screen and sign confidentiality agreement. A minimum of CPR and 1st Aid is required. ***
For more Information & Application, contact us at:
eric@explorationsmt.com OR 406-827-3863