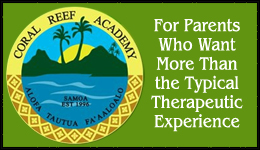 Coral Reef Academy is a residential treatment center located in Samoa in the South Pacific whose mission is to offer quality therapeutic care to young men ages 16 – 18 and young adults 18-24, with a range of presenting issues including substance abuse, oppositional defiant behaviors as well as maturational and social adjustment issues.
---
Program Therapist
We are looking for a program therapist to join our multidisciplinary team and contribute to our residential treatment program.
The therapist will work with the clinical director to coordinate therapeutic interventions of the program. Responsibilities will include maintaining a case load of up to 10 students and conduct individual, group and family therapy. experience with Substance Abuse modalities preferred.
Given the unique location of CRA, therapists often engage with students and staff in a wide range of cultural activities as part of the therapeutic and educational programs offered. Working in Samoa further offers a unique environment to learn a new culture to enjoy while experiencing the beauty of the island and slower paced lifestyle. The ocean and rainforests provide amazing opportunities for hiking, swimming, fishing, water sports, and other unique experiences only Samoa and the South Pacific have to offer. The people native to Samoa and expatriates that live there are an amazing group that can be easily connected with.
Education:
Minimum of a Masters Degree in clinical social work, clinical psychology, licensed professional counselor or marriage and family therapy or related field. Licensed professionals are preferred.
Training and Experience:
Minimum of two years experience in the area of child and/or adolescent treatment/counseling is preferred along with a thorough knowledge of children and adolescents struggling with emotional and behavioral problems. Training and or experience in substance abuse treatment modalities.
Salary:
Commensurate with experience. The position also provides the employee to attractive tax benefits of living overseas.
Interested applicants should submit a CV and three references to:
Bryan Marks
Coral Reef Academy
Office: 702-233-0444
Email: bmarks@coralreefacademy.com