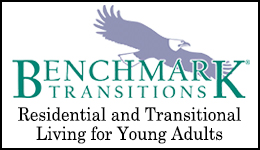 Benchmark Transitions is one of the longest-running therapeutic programs for young adults. Benchmark Transitions offers a long-term, dual diagnosis residential transitional living program for 18-28 year old men and women providing clinical treatment, addiction recovery & aftercare, education, career and life skills.
Benchmark is a full-time Residential Program.
---
Primary Substance Abuse Counselor
Benchmark Transitions is seeking a qualified individual for the position of Primary Substance Abuse Counselor. The ideal candidate is highly organized, ethical, with strong communication skills and strong professional boundaries. This position is a full time, exempt salaried position.
Primary Responsibilities:
Conduct individual sessions with patients on caseload/coaching team.
Conduct Process Group and other group counseling.
Oversee and manage all components of participants' programming while at Benchmark Transitions – academic, clinical, social, emotional and physical.
Ensure that all program offerings are delivered and supervised to ensure seamless integration and participation towards established graduation criteria.
Case Management of participants includes: supervision and oversight of the interdisciplinary team in developing and delivering individualized programming and treatment plans, facilitation of individual, group, workshop and/or coaching sessions for all program participants and parents/families.
Oversee and facilitate daily participant activities, including field trips and life skills classes.
Provide and facilitate regular communications between participants, family members, referral sources, and others related to the participants on their caseload.
Primary Counselors provide crisis intervention with participants, authorize treatment transitions or transfers and participate in on-call rotations.
Management and supervisory responsibilities including but not limited to: shift management, liaison between Program Services Department and other departments, mentoring, teaching and coaching of team staff, counseling and disciplinary responsibilities; such as performance reviews, counseling actions and terminations.
Minimum qualifications include:
Bachelor's degree required.
Master's degree in Counseling or Psychotherapy (or related discipline) is preferred (licensure not required)
State of California Certification(s) for treatment of Alcohol and Other Drug (AOD) programs – CATC III, CADC I, CADC II and/or LAADC preferred.
Two years of experience working in a clinical setting, preferably a residential setting.
Must have exceptional organizational and communications skills and be able to work in a fast-paced environment.
Must be able to perform physical activities including, but not limited to: activities of daily living, cooking & cleaning, sports and recreational activities.
Salary: Competitive salary offered, depending upon education and experience. A comprehensive benefit package is available following a 60 day waiting period.
Applicants must successfully pass and background check and pre-employment health screening (urine drug screen and TB test). Applicants in recovery must have a minimum of 2 years in recovery.
Benchmark Transitions is an EEO employer.
Please submit resume and cover letter to: admissions@benchmarkyas.com