From Strugglingteens.com


Visit Reports
WEST RIDGE ACADEMY
Visit Reports
Sep 22, 2006, 15:04



West Jordan, Utah
Jared Hamner - Admissions Director
800-262-2697
www.westridgeacademy.com


Visit by Kristie Campbell, June 11-12, 2006



As I drove onto the West Ridge Academy campus, I was a bit awestruck by the size of it. In my mind's eye, I had pictured a quaint little administration building and a couple small dorm buildings. What I found instead was a small college style campus with eight cottages for the boys, a huge administration building complete with offices and classrooms, a parent apartment, two full-scale gymnasiums with one on the boys' campus and one on the girls, a classroom building and four cottages for the girls' campus, as well as a chapel. Both campuses are set up in an oval or circle shape, with buildings boarding a large yard in the middle. I was impressed with not only the size of the boys' campus, but also by how beautifully groomed it was. The girls' campus is still very much under construction.

At the edge of the campus sat an unmanned guard station that showed the transformation from the old militaristic style that once housed the Utah Boys Ranch. This station, which is now in the process of becoming a music center, should be left standing to remind all past and future families of the considerable growth this program has undergone under its new management.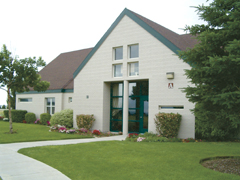 Boys Cottage
At one time, the West Ridge campus was just for boys, but recently they have added an adjunct girls program with the two campuses being adjacent to each other. However, both programs are run completely independent of each other, and although they currently share the cafeteria, they do not use it at the same time.
As I pulled into a parking spot in front of the admissions office, I was greeted by one of the house parents because the office was closed due to my evening arrival. She instructed me how to get across campus to the onsite apartment where I settled in for the evening.
Early the next morning, as I got ready to begin my tour of the campus, I heard boys' voices in the yard and looked out the window to see them doing exercises. Then they all huddled up in a group for what appeared to be a pep talk of sorts as I prepared to walk across the yard to the office.
As I waited in the office and talked with various staff members, I began to realize that there are several family connections at West Ridge. Many staff members had chosen to return to the school either after attending the program themselves or having had sons who attended. West Ridge is a religious program with on-staff spiritual advisors, many of whom reported renewing their terms repeatedly. A few had entire families working there, which I felt indicated a high level of dedication and gratitude toward this school and its mission.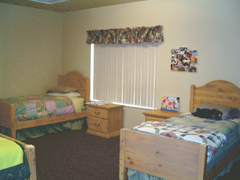 Girls Cottage Room
West Ridge Academy is a non-profit, non-denominational residential treatment center for boys or girls "who face challenges ranging from significant psychiatric issues to severe emotional and behavioral acting out." The program is appropriate for students with aggressive/ assaultive behavior, persistent disregard for parental authority, lengthy outpatient history without improvement, cutting or self-destructive behaviors, running away, suicidal ideation, substance use, sexual promiscuity, lack of enthusiasm/ motivation, and those typically slacking in or truant from school. The school is accredited through NAAS, and the clinical program is licensed by the State of Utah as a residential treatment center. All the therapists are Masters or Doctorate level. Perhaps the following: Each residence has at least one married couple (plus their young children if they have any) living in the cottages that function as primary mentors to the students. Each residence also has at least one unmarried staff living in the cottages that also mentor the students.
Admissions Director Jared Hamner introduced me two of his assistants, Robynn and Lynn, who took me around campus and explained a normal day to me. After walking through the administration part of the office, we crossed over into the boys' school. Although housed in the same building, the school is kept separate from the offices. The principal's office is located in the center of the school and classrooms, though smaller, are arranged very much like a typical high school. There are also two classrooms for the nine middle school students. Another thing I noticed was the boys all wore a uniform of sorts and I saw four different colors. I asked about the significance and Robynn explained that the shirt colors are "progress markers" that give staff a quick reference as to how a youth might respond to them. Unlike a level system, the kids do not have to go through each shirt color and the color can change daily.
As we walked through the halls of the school, I could sense a feeling of excitement, which was later explained as anticipation for an upcoming musical performance. Many of the boys' had taken guitar and singing lessons and would be performing as a group in a mini-concert for the administrative team and me. We talked with a few boys along the way, some were shy, while others were outgoing, yet all radiated a quiet sense of pride that wasn't outwardly boasted about but definitely apparent. I couldn't help but feel proud of them as well. We talked with two of the boys who would perform later that afternoon; one was beginning to transition out of West Ridge, while the other had only been there a couple months. They both looked healthy with clear eyes and boyish smiles. I spoke in German to one who was excited to show a skill he'd learned, and discussed music with the other. Both felt they had grown on some level and readily told me what led them to West Ridge.
While heading back through the school toward the administration section of the building, I noticed a couple boys in bright yellow shirts standing in a line by the wall, and Lynn explained that these boys were on work crew because they did not want to participate in classes. The yellow shirts signified a lack of trustworthiness.
Ken Huey, Clinical Director, met me in the office to describe the program components. He also explained the program's non-profit status and fund-raising activities that West Ridge uses to pay for everything in advance including various projects and facility enhancements such as the gymnasium, girls' campus and the ropes course. Ken took me over to the girls' campus and we began our tour in their gym, where West Ridge provides a day program (Sunshine Solutions) for underprivileged local kids, age five and up who need summer activities, positive mentors and emotional growth to help them learn how to make good decisions. We also walked through both the girls and boys dorms, which were all clean and decorated with homemade quilts, and picture boards that gave an organized yet very homelike feel. We finished with a walk through the chapel where students participate in non-denominational services.
After touring all the buildings, the two West Ridge campuses have to offer, it was time for lunch. The food was great, but the entertainment was even better. Twenty or so boys, who had only practiced together for a week or two by the time of my visit, gathered in the conference room and played/ sang a couple ensembles. I was impressed by the level of teamwork required to pull off such a task with little notice and little practice. We finished lunch, thanked the boys and left to watch the girls tackling the ropes course, before attending a graduation ceremony for one of the boys.
At the end of the day, Ken Allen, Executive Director asked me to come in for my own exit interview. As I talked about my observations, he took notes and pondered my input. I felt satisfied that the administration takes visitors concerns, opinions, etc into consideration. I observed a portion of the intake process as I sat in Jared's office with him and Amy Whittaker, Clinical Assistant. I was impressed by the communication and amount of screening detail they do on each student. The sun was setting on the nearby mountains, when I returned to the parent cottage to settle in for the evening. As I watched the boys playing in the yard, I felt at peace with the obvious sense of safety and well-being the boys and girls seemed to feel on this campus.
---
~Comments~
September 13, 2010
I found your review after reading an article about the music therapy program at
West Ridge Academy
. It really helped my daughter through some really difficult circumstances. It was amazing to combine the one thing she loved with school. I'd recommend it to anyone who has a child who loves music and is having difficulties in their lives.
Thanks,
Carrie
carrieinboise@yahoo.com
---
August 10, 2010
My parents sent me to West Ridge because I was not dealing with my mother's death or her physical abuse towards me. My mom remarried and I hated my step-dad and didn't want him in my life. My parents placed me in the program after years of outpatient counseling. My life was out of control and the choices I was making affected everyone around me. While at West Ridge I learned a lot about myself. I learned that I can do anything I set my mind to. Before West Ridge, I had no confidence in myself at all. I'm also planning on attending college this fall and getting a business degree.
Sara Gathers
sara.gathers@yahoo.com
---
July 20, 2010
West Ridge is a great school. It definitely helped me. I'm now in college and get along great with my family. I even continue to maintain friendships with some of those who volunteered at the school. Some of them are mentioned in an article I read recently about
West Ridge Academy
.
Thanks.
Charles A.
oasislive@yahoo.com
---
June 19, 2008
You all make it sound so good but why don't you ever say anything about work crew if I sent my kids there I would want to know because my parents didn't when I was there. The program really helped it really did but you need to let everyone know the exact circumstances of when their kids first arrive
Austin J Sorensen
Austin.Sorensen@seymourjohnson.af.mil
© Copyright 2012 by Woodbury Reports, Inc.