From Strugglingteens.com


Seen N' Heard
SEEN n' HEARD - SEPTEMBER 2005
Sep 16, 2005, 17:29



GATEHOUSE IN THE NEWS
(July 13, 2005) A story in the Wickenburg Sun profiled several aspects of Gatehouse Academy, Wickenburg, AZ, 888-966-4800, including how the program works in conjunction with the local community on area projects. Gatehouse is a transitional living program for young adults and also operates two extended campuses, Gatehouse Haven Oaks, in upstate New York with an outpost in Thunder Bay, Ontario.

INTERMOUNTAIN CHILDREN'S HOME CONFERENCE
(July 26, 2005) Maggie Long, Marketing Manager, Intermountain Children's Home and Services, Helena, MT, announced that on September 23, 2005, Dr. Bruce Perry will host and speak at a one day conference on the Effects of Child Neglect in the Community at the Red Lion Colonial Hotel in Helena, MT.

WILLOW CREEK OFFERS SPECIAL RATE
(July 27, 2005) Steve Nielson, Executive Director, Willow Creek School, Provo, UT, 888-377-2215, announced the program will offer an incentive monthly rate for the first 15 students at $4,500.00, versus the normal cost of $6,000.

GORDON QUOTED ON BRAT CAMP
(July 27, 2005) Elizabeth Gordon, Educational Consultant, Bloomfield Hills, MI, 248-646-6093, Website, a Bloomfield Hills-based psychologist and educational consultant who has researched hundreds of similar camps and schools across the country, said parents who seek these interventions often endure tremendous stress and frustration first. "I'm usually not their first stop," she said. "I'm usually the last stop - the one parents make when they're at their wits' end." More...

AUTHOR SAYS BRAT CAMP REFLECTS PERSONAL EXPERIENCE
(July 28, 2005) NewsReleaseWire.com reported that Lisa Whaley, Author of the book "Reclaiming My Soul From the Lost and Found," says that ABC's "Brat Camp" directly reflects her personal experiences of the "gut wrenching" decision to send her out-of-control teen to a wilderness program. More...

SAGEWALK DEDICATES NEWSLETTER TO "BRAT CAMP"
(July 29, 2005) SageWalk, The Wilderness School, Redmond, OR, 800-877-1922, dedicated its entire newsletter for the Month of July to its participating in the ABC reality series, "Brat Camp." More...

YOUTH CARE OPENS RESIDENTIAL HOME
(August 2005) Tamara Noyes, Admissions Director, Youth Care of Utah, Inc., Draper, UT, 800-786-4924, announced that its newest home for adolescents over age 15 is now open.

BRIAN CHURCH RESIGNS FROM HLA
(August 2005) Brian Church, Director of Admissions, Hidden Lake Academy, Dahlonega, GA, 706-864-9109, announced his resignation effective August 17, 2005. In his letter to educational consultants, Brian said he would continue to recommend HLA as a "fine option for clients," and that his decision to resign stemmed from a desire to return to the west coast to be closer to family.

BENCHMARK UNVEILS NEW INFO PACKET
(August 1, 2005) Shelley Skaggs, Marketing & PR, Benchmark Young Adult School, Redlands, CA, 714-963-4148, announced the availability of a newly revised informational packet, effective August 1, 2005. The materials include a new informational brochure detailing Benchmark's philosophy, mission statement, student profile, curriculum highlights and overview.

BOYER ADMISSIONS AT SUWS
(August 2, 2005) Kathy Rex, Executive Director, SUWS Adolescent & Youth Programs, Shoshone, ID, 208-886-2565, announced that Diana Boyer, dboyer@suws.com, is the new Admissions Director. Prior to joining SUWS, Diana was the Director of Admissions for Auldern Academy, Director of Admissions and Referral Relations for CEDU High and Middle Schools in California and Director of Family Resources for CEDU North Idaho Schools.

MENNINGER RANKS 10TH
(August 2, 2005) Menninger Clinic, Houston, TX, announced that for the 15th year in a row Menninger Clinic has ranked in the top 10 of America's best hospitals by US News & World Report. This year it placed 10th on US News & World Report's list of leading psychiatric hospitals. These rankings are based on survey results from psychiatrists nationwide. Menninger is celebrating 80 years of service and beginning its 3rd year in Houston, TX.

JACOBSON-WARREN OPENS FIRM
(August 3, 2005) Dore E. Frances, Owner, Horizon Family Solutions, LLC, Bend, OR, 541-312-4422, announced that Betsy Jacobson-Warren resigned from the company to open her new educational consulting firm, Cascade Family Solutions, LLC, Bend, OR, 541-598-0550. The partnership between Betsy and Dore was announced in the May 2005 Woodbury Reports, Inc., Newsletter, after Betsy resigned from her position as Director of The Academy at Sisters in Bend, OR.

GLEN CANYON RANCH WEBSITE
(August 3, 2005) Judy Brengle, Owner/ Operator, Glen Canyon Ranch, Plains, MT, 406-826-2228, announced that her new website is now online. Glen Canyon is a newly opened program for boys ages 14-18, who have graduated from other programs but continue to need a structured environment while attending a public high school.

FATHER/SON ADVENTURE WORKSHOP
(August 3, 2005) Randy Russell, the founder of Life Designs and Dennis Crowell, the founder of NorthStar, have combined their training, experience and skills together to create a cross-generational healing experience for men. SouLore and Wings of Eagles is a powerful adventure-based workshop for the men in a family, the Father/Son Wilderness. The first Father/Son Wilderness was from August 26 - September 2 in the Oregon Cascades (Redmond/Bend Area). See website for information and application.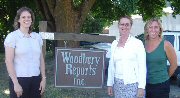 SIMON, SEESE AND BRENNAN STOP BY
(August 4, 2005) Marla Simon, MSSA, LSW, Educational Options LLC, Cleveland, OH, 216-272-8080, and Laura Seese, PhD, Educational Consultant, with Educational Advancement, West Suffield, CT, 860-254-5451, and Maureen Brennan, Educational Consultant, Westerly, RI, with Mason & Associates Educational Consultants, Boston, MA, 617-236-4747, stopped by Woodbury Reports, Inc., for a visit while touring programs in the Northwest regions of Montana and Idaho.
CHANGING DIRECTIONS HAS NEW NAME AND ADDRESS
(August 4, 2005) Changing Directions announced that it has changed its name to College Excel with a new address of 86 SW Century Drive, Box 199, Bend, OR, 541-388-3043.
SPRING CREEK PROFILED
(August 4, 2005) Spring Creek Lodge Academy, Thompson Falls, MT, 406-827-4344, Email, submitted a story published by the Missoulian, a local newspaper, profiling the program and their student contribution of "Mandala Sidewalk Art. " The story went on to describe the program and how the Mandala illustrated their mission of publicizing recreational activities for the school.
EIA CLUSTER PLANNED
(August 4, 2005) Heather Wechter, Tutors-To-You, LLC, Aurora, OR, 503-678-5445, announced that EIA Director Steve Pine, will be in Portland, OR, on Friday October 14, 2005, for the Oregon State In-Service day to share information and ideas at the Pacific Northwest cluster. Heather is requesting that all EIA members RSVP as soon as possible because the location of the cluster is dependent on who is attending. IE; if members from just Western Washington and Oregon are attending, the cluster will take place in Portland, however, if members from Eastern Washington and Idaho confirm they will attend, the cluster will take place in Hood River.
KIDS' CAMP FACES ACCREDITING REVIEW
(August 5, 2005) The Atlanta Journal Constitution reported that the accreditation of Appalachian Wilderness Camp, a state-run wilderness camp, is under review following the death of a 13-year-old Douglas County boy who was restrained for more than an hour in April 2005. Six of the camp counselors are charged with murder in the teen's death. More...
ST PAUL'S HIRES NEW STAFF
(August 5, 2005) Donna L. Wittwer, M.Ed., Director of Admission, St. Paul's Preparatory Academy, Phoenix, AZ, 602-956-9090, announced the hiring of two new staff members: Don Hale is joining the faculty as the new Social Studies teacher, and Emily Paumen Schiesl is the new the Director of Development.
ZUMWALT DESCRIBES HIRED POWER, INC.
(August 5, 2005) Nanette Zumwalt, Director of Private Staffing, Hired Power, Inc., 714-615-0155, submitted a press release to Woodbury Reports, Inc., describing a new service offered by Hired Power, Inc., called Personal Recovery Assistants. More...
WOODBURY KEYNOTE SPEAKER AT NATSAP
(August 8, 2005) Lon Woodbury, MA, IECA, CEP, President, Woodbury Reports, Inc., Bonners Ferry, ID, 208-267-5550, website, kicked off the month of August with a trip and presentation at the Northwest Regional NATSAP Conference in Bend, OR. Lon ended the month of business travel on August 22, with a trip to Anchorage, AK, where he presented information to the Anchorage Chamber of Commerce's "Make It A Monday Forum," about the struggling teens industry and the resources available to parents and employers.
MENTOR RESEARCH INSTITUTE EVALUATES "BRAT CAMP"
(August 8, 2005) The Board of Directors, Mentor Research Institute Portland, OR, 888-577-3384, reported on research they conducted over the past six years on wilderness therapy and more specifically on SageWalk and ABC's "Brat Camp." More...
ISLAND VIEW IMPLEMENTS AFTERCARE PROGRAM
(August 8, 2005) Jared Balmer, PhD, Executive Director, Island View, Syracuse, UT, 801-773-0200, announced that all new residents will be enrolled in the new, year-long Follow-up and Aftercare Program to support and maintain the students changed behavior patterns learned at Island View. The Aftercare program will be funded as part of the standard tuition with the last month's deposit paid at enrollment applied to the funding with the exception of those students transferring into a residential step-down program.
KENYON COLLEGE LAUNCHES STUDY ABROAD PROGRAM
(August 9, 2005) Kenyon College, Gambier, OH, announced in the spring of 2006 it is launching an off-campus study program for juniors to explore the art and architecture of Rome and Florence, Italy.
BALANCE ROCK COACHING
(August 9, 2005) Guy Dumas, Balance Rock Coaching, Helper, UT, 435-579-0394, sent a press release to Woodbury Reports announcing his new family coaching business to aid students in transitioning back into a "normal life" after graduating from residential treatment or wilderness programs.
EYA EXPANDS SERVICES
(August 11, 2005) Martha L. Chamberlain, Director, Marketing and Client Relations, Eckerd Youth Alternatives, 727-461-2990, announced they are expanding, which includes the transformation of two outdoor therapeutic programs, E-Sun-Alee in Deer Lodge, TN, and E-How-Kee in Brooksville, FL, to serve the needs of privately referred boys and girls, their families and referring professionals. More...
ACHIEVEMENT CENTER OPEN HOUSE
(August 12, 2005) The Achievement Center for Young Women in Manti, UT, 435-835-4475, Admissions, , announced they held an Open House on Monday, August 29, 2005 from 8 a.m. to 5 p.m. The Achievement Center is a 16 bed residential facility that opened in June of 2005.
GRANT LEAVES BACHMAN ACADEMY
(August 12, 2005) W. Kane Ayres, Director of Admissions, Bachman Academy, McDonald, TN, 423-479-4523, announced that Bill Grant, Dean of Students, is no longer associated with Bachman Academy. The program also announced that it is starting the school year with 41 students, a newly remodeled dormitory and has added both an Intramural and Horticulture program.
KING GEORGE LIVES ON
(August 12, 2005) Jay Ramsey, Director of Communications & Outreach, King George School, Sutton, VT, 802-467-1200, announced that Debra Osteen, President of the Behavior Health Services division of Universal Health Services, Inc. (UHS) visited the campus and met with Dr. Karen Fitzhugh, Head of School, to discuss plans for the continued operation of the school. The staff at King George is working with the staff at UHS to integrate their systems. Read the full press release.
OPENINGS AVAILABLE! SCHOOL DOWN UNDER
(August 15, 2005) Suchitra Davenport, School Down Under, Palmerston North, New Zealand, Santa Barbara, CA, 805-896-5131, announced that the program currently has openings for two more students and financial aid is still available for the coming semester, which began on September 4, 2005.
BROMLEY BROOK ACCEPTING ENROLLMENTS
(August 15, 2005) Bromley Brook School, Manchester Center, VT, 866-537-2702, an all girls' college preparatory boarding school, announced it is now accepting new enrollments for girls, ages 13-17.
SANTIAM CROSSING ACCEPTS STUDENTS FROM OTHER PROGRAMS
(August 16, 2005) Julia Andrick, Marketing Communications Director, 208-265-8355, Catherine Freer Wilderness Therapy Expeditions, Albany, OR, 800-390-3983, announced that Santiam Crossing, Scio, OR, is now accepting students from other programs who would benefit from an additional six to nine month academic program. Contact Sarah Moir Mack, 800-390-3983 for more information.
CATHERINE FREER: CEU CERTIFICATION
(August 16, 2005) Julia Andrick, Marketing Communications Director, , 208-265-8355, Catherine Freer Wilderness Therapy Expeditions, Albany, OR, 800-390-3983, announced that the first in a series of free CEU trainings for mental health professionals at the Santiam Crossing campus in Scio, OR, on August 19. Catherine Freer Clinical Director Kevin Riley, LCSW, CADC, will present a seminar on "Adolescent Self-Harm - Causes and Treatment." For information on upcoming CEU certification courses, contact Sarah Moir Mack at 800-390-3983.
NEW LEAF OF NC ADDS NEW CLASSES
(August 16, 2005) Amy Sandler, Manager Marketing & Communications, Aspen Education Group, Cerritos, CA, 562-468-4479, announced that New Leaf of North Carolina, Hendersonville, NC, 828-280-1578, Admissions, started its new school year on August 29, 2005 with the addition of two classes, Spanish and Music.
NY TIMES REPORTS ON INDUSTRY GROWTH
(August 17, 2005) The New York Times reported that with the continued growth of the industry and investors seeking high returns, some "traditionalists in the field" of private schools and programs for struggling teens are concerned that the bottom line may take precedence over students' needs. Read the full article.
REBUTTAL TO NEW YORK TIMES ARTICLE
(August 17, 2005) STATS at George Mason University rebutted a New York Times story on how the schools and programs in the struggling teens' industry are becoming highly attractive to investors. The rebuttal says "the paper (Times) of record takes a curious perspective on these programs-claiming, with no evidence whatsoever, that today's centers are not the "tough boot camps" of the past and that they "combine therapy and education" often in an outdoor setting." More...
VANDIVIER JOINS CENTER FOR CHANGE
(August 18, 2005) Ken Cozzens, Director of Business Development, Center for Change, Orem, UT, 801-224-8255, announced that Wendy VanDivier, MSSW, recently joined the program as a Regional Director of Business Development. Wendy's history includes clinical and marketing experience in adolescent psychiatric and chemical dependency treatment settings, most recently with Provo Canyon School. Wendy is rejoining the workforce after several years as her twins, Hannah and Sara, and son, Matthew, have entered elementary school. Wendy resides in Texas and can be reached at 888-224-8250 or 830-755-8927.
MCDANIEL NEW INTERMOUNTAIN RTC DIRECTOR
(August 18, 2005) Chuck Christiansen, Director, Business Development, Intermountain Hospital, Boise, ID, 208-375-5910, announced that Mildy McDaniel, LCPC, NCC, is the new clinical director of Intermountain Hospital's Residential Treatment Center. He also announced that Waynette Elizabeth Davis joined Intermountain as its Northwest Community Liaison and will work with referral sources in Washington, North Idaho, Oregon and Alaska. He added that Recreational Therapist Barbara Sanchez, PhD has been added to the staff fulltime to help with the Intermountain RTC goal of being Seclusion and Restraint-Free by the end of the year. Barbara is a key presenter at the August "Texas Recreation and Park Society Summit."
THE TOUGHEST LOVE…
(August 23, 2005) The Dailycamera.com contacted Lon Woodbury, MA, IECA, Founder/ President, Woodbury Reports, Inc., Bonners Ferry, ID, 208-267-5550, for his comments to their story about struggling teens and the industry of private schools and programs. Woodbury, whose business and website is dedicated to Parent Empowerment, conducts annual surveys of both consultants and schools/ programs for the Parent Empowerment Directory, said parents are beginning to realize they can take action themselves. Disasters are possible and there are some very questionable programs out there. In this year's survey, only 130 made the cut to be included in our Directory. More...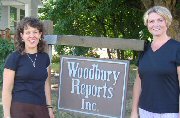 MOIR MACK & ANDRICK STOP BY WOODBURY REPORTS
(August 24, 2005) Sarah Moir Mack, Director of Referral Relations, and Julia Andrick, Marketing Communications Director, Catherine Freer, Albany, OR, 541-928-2749, stopped by Woodbury Reports for a visit while traveling and visiting schools and programs in the area. Woodbury Reports congratulates Sarah on her August marriage.

STUDENT PRAISES CONFIDENT LIVING
(August 23, 2005) The Daily Camera online reported that a former student at Confident Living, Inc., Boulder, CO, with Jack Culotta as Director, 800-261-0127, highly praised the program and founder David Herz, for helping to turn his life around as he transitioned home from a residential program in Mexico. Confident Living, Inc. matches at-risk teens with a mentor trained in the mental health field and pairs parents with a parenting coach. Free registration required.

BLUE HILLS ACADEMY CLOSES
(August 24, 2005) Sonja C. Fullwood, MAEd, MC, Executive Director, Blue Hills Academy, LLC, Anthem, AZ, 623-551-9048, announced the program has closed effective August 15, 2005. Read Sonja's statement in the Breaking News section of www.strugglingteens.com.

MELTZER CONDUCTS COACH TRAINING
(August 25, 2005) Benjamin Wahl, Program Coordinator, Collaborative Coaching Program, Ryther Child Center, Seattle, WA, 206-856-9490, announced that Rob Meltzer of Rocky Mountain Educational Planning recently conducted a presentation and workshop for the Collaborative Coaching staff and other professionals in Seattle. The training was based on Rob's experience in providing structure and support for the family during the post-program transition.

ABC'S "BRAT CAMP" FINALE TAKES HUGE RATINGS DROP
(August 25, 2005) Media Life Magazine reported that ABC's "Brat Camp" the season finale "and likely series ender" dropped 29 percent from the previous average on the Nielson overnight rating among viewers, ages 18-49. Media Life said the reason for the drop in ratings could have been caused by the concept wearing thin after a few shows because "watching kids misbehave isn't great television; it happens all the time at home." More...

WRITER CRITICIZES "BRAT CAMP"
(August 25, 2005) In an article for Slate, titled Teenage Wasteland, Farewell to the sadistic pleasures of Brat Camp, writer Sam Anderson, severely criticized the ABC series, the SageWalk program and the teens participating in the program. However, toward the end of the article he did say that all but one (Jada), attending the SageWalk program "made actual progress, became less teen like, and occasionally even crossed over into likableness." More...

BEFORE BRAT CAMP, THERE WAS THE ANASAZI WAY
(August 25, 2005) PRWEB, Mesa, AZ, reported that many viewers of the popular ABC reality series "Brat Camp" have no idea there is an entire industry that utilizes "Wilderness Therapy" or "Outdoor Behavioral Healthcare," for struggling teens. The industry is comprised of providers located throughout the United States, predominantly in the West with one of the first and most effective of these organizations being the nonprofit ANASAZI Foundation that operates in the high-desert forests of Arizona. More...

CEDU'S RUNNING SPRINGS CAMPUS SELLS
(August 26, 2005) The Jewish Journal of Greater Los Angeles reported that the CEDU campus in Running Springs, CA was purchased in August for 4.3 million dollars by West-Coast Chabad Lubavitch. The plan is to utilize the property for conferences, seminars, retreats, summer camps and programs for children with special needs. Chabad is discussing the possibility of opening a full-time school there; it has retained the Western Association of Schools and Colleges (WASC) accreditation that the CEDU schools had acquired.






© Copyright 2012 by Woodbury Reports, Inc.