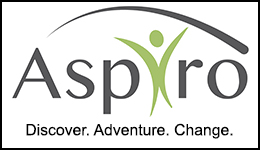 Aspiro is the pioneer of Wilderness Adventure Therapy offering short-term, intermediate treatment options for teenagers and young adults. Our intensive outdoor treatment program is residential in nature providing multidisciplinary treatment solutions that are safe, effective, and clinically sophisticated.
Learn more about Aspiro at www.aspiroadventure.com.
---
Logistics Coordinator
Mt. Pleasant
Commitment: Two years minimum
Tentative Start Dates: Training begins Aug 4, assume full-time role Sept 10

Expected Work Load: Average of 40-60 hours/week

Pay: salary to be discussed
Job Description: The Logistics Coordinator works to create more effective and efficient systems to better support the many Field Department needs. This position functions as a support role to the Logistics Director and Field Leadership Team.
Responsibilities:
Be present in Mount Pleasant each week by Sunday at 3 p.m. till Tuesday afternoon.
Field-House & Base-Camp Facilities Maintenance:

Building repairs

Coordinate contractors where necessary
Coordinate off-shift Guide opportunities and Injured Guide opportunities

Building Development

Motor Pool
Weekly itinerary vehicle assignment
Itinerary support:
Gear/equipment inventory and oversight

Aspiro issued

Ropes / Water / Snow / bike / Social Awareness

Resupply

Weekly facilitation from Sunday afternoon – Tuesday afternoon

Supply closet

Inventory
Issue / re-issue
Organization

Lost and found room

Inventory
Issue /re-issue
Organization
Other Duties:
Pro-deal acquisition

Ropes / water / snow / Bike
Tradeshow/gear advancement awareness etc

Be available for:

Emergency Response including the likelihood for multi night group support
A Call-In rotation every 4-6 weeks

Assist with logistics, transports, and other office duties as needed
Job Requirements:
Must meet Field Guide requirements, as well as the following:
Minimum of 8 month's on trial field experience
1 – 2 years relevant experience
25+ years old
Solution focused
Team player
Able to provide relevant, concise feedback
Developed interpersonal communication abilities
Advanced motivational interviewing capabilities
Strong capacity for leadership as well as collaboration within a group
Must take initiative and have strong follow-through
*NOTE: This list is not comprehensive. Responsibilities are subject to change based upon Aspiro's ever-evolving needs.
We expect all employees to actively live The Agreement.
Please email resumes and references to Joe Nagle at jnagle@aspiroadventure.com
About Aspiro
With treatment-specific programs located in Utah and Costa Rica, Aspiro's mission is to be the most clinically-advanced outdoor behavioral health program in the world, providing safe, dynamic, highly effective treatment modalities that are backed by empirical research. Aspiro Wilderness Adventure Therapy is a short-term wilderness program serving adolescents ages 13-17 and young adults ages 18-28 with varying degrees of social, emotional, and behavioral challenges.