Kalispell, MT

---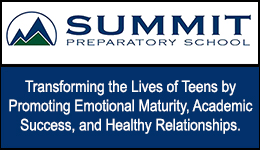 Summit Preparatory School is a private, non-profit, therapeutic boarding school for youth ages 14-18 with emotional, academic and behavioral challenges. The program combines a college preparatory high school curriculum with a professional, relationship-based treatment program. 
The campus is located on 520 beautiful wooded acres in Kalispell, Montana, 20 minutes from downtown and 45 miles from Glacier National Park. Encompassed by 2.3 million acres of federally protected land, thousands of miles of hiking, biking, show-shoeing and sledding trails, and four unique seasons for outdoor exploration, Kalispell is the ultimate outdoor adventure mecca. Kalispell has a population of nearly 23,000 and the greater Flathead Valley is 100,000.
Summit is licensed through the MT State Board of Private, Adolescent, Alternative, Residential or Outdoor Programs (PAARP) and NATSAP (National Association of Therapeutic Boarding Schools). Our academic program is accredited through the Office of Public Instruction in the state of Montana.
---
Clinical Director
Job Description
The Clinical Director oversees the clinical milieu, and manages a team of therapists who provide individual, group and family therapy for their assigned students. Duties include: (1) General clinical oversight of the program including: therapy groups, specialized groups, community meetings, milieu-based interventions, family workshops and retreats, clinically-focused experiential activities, and crisis intervention; (2) Administrative supervision of therapists including: hiring, scheduling, assuring effective clinical documentation, leading departmental meetings, and completing performance evaluations; (3) Clinical leadership including: clinical supervision, training, supporting therapists with complicated clinical cases, and clinical team building; and (4) Maintaining an effective working relationship with parents, outside referral sources, and other departments as part of our collaborative interdepartmental approach. This includes attending directors meetings, being a regular liaison with referral sources, and assisting the Admissions Department with potential enrollments.
Requirements:
Applicants must possess a current license as a Master's or Doctoral level Clinician and must be license-eligible in Montana within one year of start date. Minimum of ten years of experience working in a clinical setting and five years doing adolescent and family work. Must have managerial and clinical leadership experience as well as experience in the areas of program development and crisis management with a demonstrated ability to provide professional psychotherapeutic services for adolescents and their families with psychosocial, emotional or behavioral problems. Experience with experiential therapy and substance-related conditions preferred.
Salary: Competitive salary based on experience.
Contact: Interested applicants please send resume and cover letter to
Lainsworth@summitprepschool.org.
For more information about Summit Preparatory School visit our website:
www.summitprepschool.org.
---
Clinical Therapist
Job Description
The Therapist provides clinical leadership for a team of staff comprised of the therapist, two bachelor prepared residential staff and an academic liaison (e.g. leads multidisciplinary team meetings; facilitates team clinical interventions). Each team is assigned approximately 10 students. The Therapist also provides individual, group and family therapy for the students on their team; facilitates a weekly across team group on a clinical theme (e.g. adoption, grief, anger mgmt); participates in family workshops; attends/participates in team outdoor experiential trips (up to 4 times a year); and shares emergency on-call for the organization with the other therapists. Salary DOE. Pay majority of health insurance premium.
Requirements
Minimum of a master's degree in a behavioral health services related field with at least two years' experience working with adolescents in a counseling and/or human service related field. Prefer experience working in a residential setting. Must be licensed or license eligible in Montana (license must be obtained within approximately one year of start date). Demonstrated ability to provide professional psychotherapeutic services for adolescents and their families with psychosocial, emotional, or behavioral problems. Experience working with chemical dependency problems a plus. Demonstrated ability to work as an effective clinical leader with co-workers and must be a team player. Love of the outdoors a must.
To apply send resume and cover letter to Lainsworth@summitprepschool.org
Visit our website at www.summitprepschool.org