From Strugglingteens.com


Seen N' Heard
SEEN n' HEARD - SEPTEMBER 2006
Aug 21, 2006, 08:14



SEPTEMBER 26-29 COSTA RICA TRIAL FOR LITCHFIELD
(July 2006) The Tico Times Online Edition reported that the trial against Narvin Litchfield, owner of Dundee Ranch Academy in Costa Rica, an affiliate of the World Wide Association of Specialty Programs (WWASP), is set for September 26-29, 2006. Litchfield, brother of Robert Litchfield, founder of WWASP, is charged with coercion, torture and illegally detaining teens. If convicted on all counts in the First Circuit Court of Alajuela, Litchfield could get at least 10 years in prison.

JDA COLLEGE PLACEMENT FOR CLASS OF 2006
(July 2006) Tom Bratter, President, John Dewey Academy, Great Barrington, MA, 413-528-9800,
announced the college placements for the graduating class of 2006. Tom said the college placements were successful for 100 percent of JDA graduates. More...

ANASAZI IN THE NEWS
(July 17, 2006) The Standard Net Live website published a story profiling how the Anasazi Wilderness Therapy Program, Mesa, AZ, 480-892-7403, info@anasazi.org, www.anasazi.org, helped a former student turn his life around. More...

HEALTH ARTICLE PROFILES AOS SUCCESS
(July 19, 2006) McLeans.ca reported how Academy of the Sierras (AOS), Reedley, CA, 866-364-0808, admissions@academyofthesierras.com, www.academyofthesierras.com, is teaching overweight kids how to lose pounds, keep them off and regain their self-esteem. More...

LOCAL STORY PROFILES GLENHOLME SCHOOL
(July 19, 2006) The Republican American, Waterbury, CT, reported that Devereux Glenholme School, Washington, CT, 860-868-7377, info@theglenholmeschool.org, teaches students with a variety of disorders including Asperger's, bipolar and Tourette syndrome, how to live independently. More...

ECKERD LEAVES LEGACY OF GIVING
(July 20, 2006) The Tampa Tribune reported that Ruth Eckerd, 84, wife of the late Jack Eckerd, Founder of Eckerd Youth Alternatives, Tampa, FL, 727-461-2990, died of an undisclosed illness at a family home in Highlands, NC on July 18, 2006.

ARNSPARGER LEAVES THREE SPRINGS
(July 21, 2006) Kathy DeMellier, Group Administrator, Three Springs of Paint Rock Valley, Trenton, AL, 888-758-4356, announced that Kim Arnsparger, Admissions Director, decided to leave the program to pursue her professional goal of becoming an Educational Consultant. More...

LEARNING ENHANCEMENT & BRITANNICA PARTNER
(July 26, 2006) Abby Berg-Hammond, 312-751-0147 ext. 221, announced that Learning Enhancement Corp, Chicago, IL, 877-272-4610, creators of BrainWare Safari, has partnered with Encyclopedia Britannica, Inc., www.britannica.com. The partnership will promote student learning by combining high-quality reference information with new software that builds children's cognitive skills. More...

OUTBACK ANNOUNCES NEW STAFF & PROGRAMS
(July 26, 2006) Ellwood "Woody" Crowell, Director of Admissions, Outback Therapeutic Expeditions, Lehi, UT, 801-649-6330, announced that Lynne McRae, PsyD and Scott Hess, LMFT, recently joined the clinical team. In the past year, Outback added a First Camp model to help new students acclimate to the program, and a Transition Camp model to help finishing students understand how to create a smooth transition to home or their next placement.

NEW PRESIDENT AT VANGUARD SCHOOL
(July 26, 2006) Vanguard School, Lake Wales, FL, 863-676-6091, announced Dr. Cathy Wooley-Brown is the school's new President. She is the school's third president in 40 years. Most recently, she was "Senior Vice President-Chief Program Officer-Florida for White Hat Management, where she was responsible for developing community partnerships to establish charter schools for at-risk students across the state of Florida.

MONTCALM EMPHASIZES OUTDOOR EDUCATION
(July 26, 2006) A story in the Smoky Mountain Sentinel reported how Montcalm School, Albion MI., part of the Starr Commonwealth Corporation, is using outdoor education to change teens from the inside out. More...

LEARNING ENHANCEMENT CORP PARTNERS WITH BRITANNICA
(July 26, 2006) Abby Berg-Hammond, 312-751-0147, Learning Enhancement Corporation (LEC), creators of BrainWare® Safari, 877-272-4610, new brain training software for children, ages 6-12, and Encyclopedia Britannica, Inc. have partnered to promote student learning. More...

ASPEN PROGRAMS FEATURED ON A&E
(July 27, 2006) Amy Sandler, Manager, Marketing & Communications, Aspen Education Group, Cerritos, CA, 562-468-4479, announced that a former student of Passages to Recovery and NorthStar Center was one of two people featured on the July 30, 2006 airing of A&E's Intervention program. The program will air again on September 10, 2006. More...

EATING DISORDERS, NOW MORE TREATABLE THAN EVER
(July 27, 2006) Mary Anne Morrow, Remuda Ranch, Wickenburg, AZ, 800-445-1900, announced that the program's recovery rates show eating disorders are now more treatable than ever. According to the announcement, Remuda Ranch's recovery rate for adolescents with anorexia is 99 percent and that with bulimia is 94 percent. More...

TIMPANOGOS FAMILY SERVICES JOINS ISPA
(July 28, 2006) Andy Anderson, MRA, Owner, Andy Anderson Consulting, Independent Small Programs Alliance (ISPA), Clearwater, FL, 727-512-9144, announced that Timpanogos Family Services, LLC, East Orem, UT, 801-830-5090, is the newest member of the ISPA. More...

UHS CFO SAYS NOT IN EQUITY TALKS
(July 28, 2006) Universal Health Services, owner of Northwest Academy, Boulder Creek and Ascent in Idaho, Provo Canyon and Center for Change in Utah, and King George School in Vermont, announced that despite rumors that they might be the next target of a leveraged buyout, they are not having talks with any private equity firms. More...

$100 MILLION SUIT AGAINST WWASPS ET AL.
(July 30, 2006) Several plaintiffs filed a class action lawsuit in the United States District Court, Northern District of New York against numerous defendants including the World Wide Association of Specialty Programs and Schools, Northwest Association of Schools & Colleges & Universities, Inc., The Academy at Ivy Ridge and the Northwest Association of Accredited Schools, Inc. The suit alleges that Academy at Ivy Ridge, fraudulently and falsely claimed, it was licensed and authorized by the State of New York to award Junior and Senior high school credits and high school diplomas. More...

ASPEN STUDY SHOWS WEIGHT LOSS SUCCESS
(July 31, 2006) Aspen Education Group, Cerritos, CA, 888-972-7736, announced that some students who attended the Healthy Living Academies in 2005, lost half of their body weight, and according to the results of follow-up studies, they have kept the weight off since returning home. More...

NEW PROGRAM DIRECTOR AT SANTIAM CROSSING
(July 31, 2006) In the July Newsletter from Catherine Freer Wilderness Therapy Expeditions, Albany, OR, 208-265-8355, Santiam Crossing School, 800-390-3983, info@cfreer.com, announced that Campus Therapist Tina Hendrickson, MSW, is assuming the role of Program Director.

CHEROKEE CREEK STAFF UPDATES
(July 31, 2006) Kathy Whitmire, Executive Director, Cherokee Creek Boys School, Westminster, SC, 864-647-1885, announced that Shawn Ziluck will replace Lee Mullins as Primary Counselor and Dona Cahn, is the new Student and Family Services Coordinator. More...

CORRECTION:
(July 31, 2006) In the July hardcopy edition of the Places For Struggling Teens Newsletter, we misspelled Larry Dean Olsen's name in the Extended Insight titled SUWS 25th Anniversary.

NEW AT HILLSIDE
(August 2006) David Beecher, Headmaster, Hillside School, Marlborough, MA, 508-485-2824, announced Kristen Naspo started this summer in the Admissions Department, and the school's expanded student center will open in September. The expanded student center will increase the space for the tutorial program with support in language arts, organization, math and social skills. Hillside is a junior boarding school for boys with learning differences.

NEW HAVEN CELEBRATES TEN GRADUATES
(August 2006) Jennifer Jeppson Wilson, Admissions, New Haven, Provo, UT, 801-768-2495, announced that ten students have graduated since the program's accreditation by the Northwest Association of Schools. More...

FORMER STUDENT PRAISES SPRING RIDGE
(August 1, 2006) The Mercury News reported that a former Spring Ridge Academy student credits her "180-degree change" in personality to the school. Spring Ridge, a therapeutic boarding school for girls, helped her to "see her potential and discover her passions." More...

KING GEORGE STAFF UPDATE
(August 3, 2006) Jeremy McGeorge, Director of Business Development, The King George School, Sutton VT, 413-303-1978, announced that he has accepted the position of Director of Business Development for the school.

SCOTT TAKES OVER AS AULDERN PRINCIPAL
(August 3, 2006) Jane Samuel, MA, Head of School, Auldern Academy, Pittsboro, NC, 919-837-2336, announced that Ann Scott, MA, is the school's new Academic Director/School Principal. Scott is replacing Dr. Russell Beecher, Ed.D, who is not returning to the school this fall.

GRAND JURY INDICTS FORMER WELLSPRING ACADEMY CEO
(August 5, 2006) The Danville Register & Bee, Danville, VA, reported that founder and former CEO, Robert Serge Gluhareff, of the now-defunct school for boys, Wellspring Academy, South Boston, VA, was indicted by a grand jury on 36 federal charges related to his handling of school and personal funds. More...

SOUTHERN FRANCE UPDATES
(August 5, 2006) Katie Jochum, Director International Marketing & Admissions, Southern France Youth Institute, Sandpoint, ID, 877-997-7686, announced that beginning this Fall, the program will offer a new Home-Stay component for qualified students who want to live with pre-screened host families during their semester abroad.

BREHM SCHOOL ANNOUNCES CHANGES
(August 5, 2006) Donna Collins, Director of Admissions, Brehm Preparatory School, Carbondale, IL, 618-457-0371 ext. 1315, announced several changes at the school. These changes include hands-on learning in the new applied physics and computer programming classes, a new laptop for each student, a new girl's dorm and new buildings to house classrooms, a gym, cyber café and dining hall.

BROMLEY BROOK UPDATES
(August 5, 2006) In its July Newsletter, Bromley Brook School, Manchester Center, VT, 866-537-2702, vdevitt@bromleybrook.com, announced Counselor, Sandy Birch, MSW, Student Coordinator, Meredith Deibold and Learning Specialist, Frank McGinty have joined the team. Bromley Brook also announced that in the interest of student safety, the program has unplugged from the internet.

SANDHILL CENTER OPENS NEW FACILITY
(August 7, 2006) Rosella McCaffrey, Admissions Director, Sandhill Child Development Center, Los Lunas, NM, 505-553-6800, announced the opening of the program's newest state-of-the-art facility, Hacienda del Rio. This new 7,000-foot Adobe ranch-home sits on seven acres just minutes from Sandhill's original facility and is designed for an additional 16 children.

UHS ACQUIRES ACADEMY AT CANYON CREEK
(August 7, 2006) Brad Gerrard, Chief Operating Officer, Academy At Canyon Creek, Springville, UT, 888-488-8949, announced that effective August 1, 2006, Canyon Creek has joined the Universal Health Services, Inc. (UHS) network of programs. The UHS network also includes Northwest Academy, Boulder Creek Academy, Ascent, King George School, Provo Canyon School, Center For Change, La Amistad and Meridell Achievement Center. More...

REBECCA DUKES ED COORDINATOR AT E-SUN-ALEE
(August 7, 2006) Martha Chamberlain, Director of Marketing and Communications, Eckerd Youth Alternatives, 727-461-2990, announced that Rebecca Dukes has joined the E-Sun-Alee, Deer Lodge, TN, outdoor therapeutic program as education coordinator. More...

GATEHOUSE RESIDENTS RAISE MONEY TO SAVE BOY'S LIFE
(August 8, 2006) Glenna Conway, Media Contact, Gatehouse Academy, Wickenburg, AZ, 888-966-4800 announced that students organized a fundraiser to raise $20,000 for a five-year-old boy who needed life saving heart surgery. After three months of preparation, the students raised $32,000 during the one-day event. More...

CHERRY GULCH OPENS
(August 8, 2006) Andrew Sapp, PhD, Founder/President, Cherry Gulch, Emmet, ID, 208-365-3437, announced the program is now open and accepting student enrollments. Andy also announced the owners of Cherry Gulch: Executive Director Mike Ervin, Vice President Chris Roberts, Program Director JoDee Fitzgerald, Facilities Director Terry Poyzer and Office Manager Betty Ervin. Cherry Gulch is a small privately owned operated, high-end ranch style therapeutic boarding school designed specifically for 10 to 14 year old boys.

LIVING WELL FEATURED IN SEEN MAGAZINE
(August 10, 2006) Julie Randall, Director of Operations, Living Well Transitions, LLC, Boulder, CO, 303-245-1020, announced Executive Director Bill Sell, MA, LPC, CGP, recently published an article on the advantages of independent living transition programs in SEEN Magazine. SEEN is a publication of the Southeast Education Network. More...

PHOENIX OUTDOOR MEETS WITH R.A.D. PARENTS
(August 10, 2006) Phoenix Outdoor, LLC, Roswell, GA, 888-868-8233, admissions, announced that program founders recently met with a national support network of families with children suffering from reactive attachment disorder. The discussion centered on the use of wilderness therapy as a principal treatment modality for adolescent behavioral issues. More...

BRIAN SHEPHERD SOLE OWNER OF RIGHT DIRECTION
(August 10, 2006) Brian Shepherd, Director of Operations, Right Direction Adolescent Services, Salt Lake City, UT, 888-592-8400, announced that effective immediately, he is now the sole owner of the company. Founder and former owner Ellwood Crowell, has moved on to become the Director of Admissions for the Outback Wilderness Program in Lehi, UT.

GREENWOOD INSTITUTE FALL TRAINING
(August 10, 2006) The Greenwood Institute, 800-408-5348, Greenwd@GreenwdAssoc.com, announced it will initiate workshop trainings beginning this fall with a presentation of the Greenwood Special Needs Model on November 1, 2006, at Loews Miami Beach Hotel, South Beach Florida from 9 a.m. - 5 p.m. The fall training is available to practicing educational consultants, psychologists, counselors and program service providers.

OVERHEARD AT NATSAP BEND OR. CONF.
(August 10, 2006) Overheard at a Bend restaurant was Judith Bessette, an Educational Consultant from Wisconsin, describing the trauma of the last day of "Blackie", Andy Sapp, founder of Cherry Gulch, explaining the perils of pole vaulting, Daryn Darr describing growing up as a teenager with her mother and Educational Consultant Dana Dean Doering, and Delbe Meelhoysen MD describing some of her ER experiences. Ask them for more detail. :)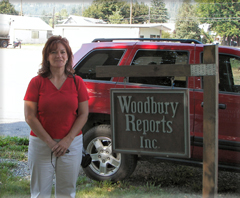 VERNA GLASSING STOPS BY WOODBURY
(August 11, 2006) Verna Glassing, MS, LCPC, National Account Manager at San Marcos Treatment Center, San Marcos, TX, 800-848-9090, stopped by Woodbury Reports, Inc. for a visit.

MENTOR RESEARCH PRESENTS STUDY RESULTS
(August 12, 2006) Kevin Rea, Mentor Research Institute, Portland OR, 541-390-9848, www.InCrisis.Org, announced that Mentor Research Institute presented the results of its research project on the efficacy of wilderness therapy programs to the National Association of Therapeutic Schools and Programs (NATSAP) conference in Bend, OR, on August 11, 2006. More...

NATSAP RELEASES LONG-TERM STUDY
(August 12, 2006) Lisa Freeman, Kevin/Ross Public Relations, 818-597-8453, announced that researcher Ellen Behrens, PhD, Canyon Research & Consulting, Inc., revealed the results from "the nation's first large-scale study of private residential treatment programs for struggling teens." More...

RENEE & MARVIN GOLDBERG UPDATE CONTACT INFO
(August 14, 2006) Renee Goldberg, Ed.D, CEP, IECA, and Marvin Goldberg, MSW, Founders, Educational Options, LLC, provided updated contact information for their two offices: To reach the office in Cambridge, MA, 617-864-8864, fax 617-864-3515, or contact the office in Worcester, MA, 508-304-9672, fax 508-304-9257.

ACADEMY OF SIERRAS TO OPEN SECOND CAMPUS
(August 14, 2006) Ryan Craig, Healthy Living Academies, Brevard, NC, 866-364-0808, announced that Aspen Education Group's Healthy Living Academies division will open a second co-ed campus of Academy of the Sierras in North Carolina for youth ages, 11-16. More...

FAMILY SCHOOL RUNNERS PLACE IN 5K
(August 16, 2006) Ann Kozak, Marketing Specialist, The Family Foundation School, Hancock, NY, 845-887-5213, announced that in July, four students received silver and bronze medals in the Annual Perkins Memorial 5K Race in Honesdale, PA.

BRIAN CHURCH JOINS ASPIRO
(August 16, 2006) Randy Oakley, CEO of Aspiro, Riverton, UT, 801-349-2740, announced that Brian Church, formerly of SUWS, Aspen and Hidden Lake Academy, is the new Director of Business Development. More...

ELLIOTT AND POWELL STOP BY
(August 17, 2006) Brandi Elliott and Jim Powell, PhD, Powell & Elliott Collaborative, Lake Arrowhead, CA, 951-315-8320, stopped by Woodbury Reports, Inc. for a visit.

DAVE AND ANNE LEWIS STOP BY WOODBURY REPORTS
(August 17, 2006) Dave and Anne Lewis, Educational Consultants from Santa Barbara CA, 805-969-2186, www.teenhelpcenter.com, stopped by Woodbury Reports on their trip through the Pacific Northwest visiting schools and programs.

COMMUNITY SERVICE BY INTROSPECTIONS COSTA RICA
(August 20, 2006) Guy LeGuyonne, Director of Communications, Introspections Costa Rica (ICR), 888-280-4227, announced that students are working in Costa Rica's National Ecological Preserve for the Cerro Dantas. Students are helping to build and maintain trails, repair bridges and will work with a Boruca Indian craftsman to create a totem pole to document their experience.


RIGHT WAY ACADEMY IN THE NEWS
(August 20, 2006) The Pittsburgh Post-Gazette reported on the first year success of the Right Way Academy, near Waynesburg, PA. Right Way is one of six new private therapeutic boarding schools founded by Charles Powell and Dr. Stephen K. Valle.

CRISIS INTERVENTION BY MICHAEL CONNER PSY.D
(August 21, 2006) Richard H. Dana, PhD, with the Regional Research Institute for Human Services, Portland State University, reviews Michael G. Conner's, Psy.D, new book Crisis Intervention with Adolescents: A Guide for Parents & Professionals.

DISCOVERY RANCH MARKS FIRST ANNIVERSARY
(August 21, 2006) Steve Schultz, Discovery Ranch, Mapleton, UT, 801-489-3311, announced that Discovery Ranch is marking its first anniversary, and the experiential campus is "bigger and better than ever." More...

WOODBURY PRESENTS AT NATSAP
(August 20, 2006) Lon Woodbury, Founder/ President, Woodbury Reports, Inc., Bonners Ferry, ID, 208-267-5550, www.strugglingteens.com, announced that he is conducting a presentation titled, The Past Is Prologue, during the St. George Regional Natsap Conference in Utah on September 15, 2006. Lon also presented at the NW Regional NATSAP Conference in Bend, OR earlier this month.

COZZENS AT AVALON HILLS
(August 22, 2006) Ken Cozzens, announced he has just accepted a position at Avalon Hills in Logan, UT, 800- 330-0490, as the Director of Business Development/Contracting. Avalon Hills Residential Eating Disorders Programs are for both Adults and Adolescents.

WOODBURY THANKS JUDI BESSETTE FOR COLLABORATIVE EFFORTS
(August 22, 2006) Lon Woodbury, Founder/ President, Woodbury Reports, Inc., Bonners Ferry, Idaho, 208-267-5550, said he would like to thank Judith Bessette, Ed.D., President, Compass Educational Consulting, LLC, Nashotah, WI, 262-369-9603, for all her help and expertise these past few months while she has been living in North Idaho. Judi will be leaving Idaho next week to return home to Wisconsin, but she plans to continue collaborating with Lon and Woodbury Reports, Inc.






© Copyright 2012 by Woodbury Reports, Inc.