From Strugglingteens.com


Seen N' Heard
SEEN n' HEARD - JULY 2006
Jun 29, 2006, 23:09



HERITAGE SCHOOL EXPANDS FACILITY
(April 27, 2006) Heritage Schools, Inc., Provo, UT, 800-433-9413, , announced the recent ground breaking for a new indoor swimming pool/ therapeutic recreation building, with completion expected in Fall 2006. Heritage also plans to open another 16-bed girls' unit by the end of the year.

CHERRY GULCH STAFF UPDATES
(May 15, 2006) Andrew D. Sapp, PhD, Founder/ President, Cherry Gulch, Emmett, ID, 208-365-3437, for boys ages 10-14, announced several staff updates. William Terry, MD is the new Medical Director; Dr. Chris McRoberts, shareholder/ consultant, is Licensed Clinical Psychologist, Jo Dee Fitzgerald is Program Director and Michael Ervin is Executive Director/ Admissions Director.

ODYSSEY SETS SAIL WITH ED CONSULTANTS
(May 16, 2006) Sarah Brockman, Assistant Director, Odyssey Wilderness Program, Bellingham, WA, 360-671-4999, announced an "educational consultants only" weekend on October 13-15, 2006. This is a complementary adventure trip to explore the San Juan Islands on the 127-foot Schooner, Zodiac. Reserve early, there are only 18 spots available.

SCHWEITZER MTN HOSTED TRAINING
(May 18, 2006) Paulie Cohen, Activities Manager, Schweitzer Mountain Resort, Sandpoint, ID, 208-255-3081, announced the Resort hosted a Wilderness First Responder course on June 12-19, 2006 in conjunction with Wilderness Medical Associates. More...

DORRINGTON OF WTC PROMOTED
(May 18, 2006) Benjamin Dorrington, Referral Relations, Wilderness Treatment Centers, Marion, MT, 406-854-2832, was promoted to the position of Referral Relations. Ben has worked for WTC since 2000 as a licensed addiction counselor.

NEW ADMISSIONS AT BOYER HOUSE
(May 22, 2006) Sue von Baeyer, PhD, Interim Executive Director of the Boyer House Foundation, San Rafael, CA, 415-456-9958, announced that Edit Markoczy, PhD, is the new Admissions Coordinator. Boyer House is designed for young adults with severe psychological difficulties.

THREE SPRINGS STAFF UPDATE
(May 22, 2006) Debra Dombrowski, Communications Manager, Three Springs, Huntsville, AL, 256-880-3339, announced that Heidi Hardman, LCSW is the Program Administrator at New Beginnings. This is a secure residential therapeutic program for girls in Owens Cross Roads, AL. More...

SOLTREKS & BLUEPRINT EDUCATION PARTNER
(May 23, 2006) Marmy Kodras, Blueprint Education, Phoenix, AZ, 800-426-4952, announced a partnership with Soltreks, Inc., Two Harbors, MN, to provide academic credits to students completing the Soltreks adventure program. More...

AMP-UP TRAINING FOR PARENTS/ STAFF
(May 24, 2006) Randy Russell, Founder of SouLore, Sagle, ID 509-671-1598, announced two "Quality Training" workshops for parents who have students in the schools and programs for at-risk teens. The workshops will run July 7-9, 2006, and October 6-8, 2006. Randy also announced they will accept one staff member per program at no charge.

DRAGONFLY UPDATES WEBSITE
(May 25, 2006) Mona J Treadway, Admissions Director/ Owner, Dragonfly Adventures & Dragonfly Transitions, 541-850-0841, announced the website now has new information on the various components of the program.

ECHO TREATMENT OFFERS OUTPATIENT SERVICES
(May 26, 2006) Echo of Calabasas Youth Treatment Center, Malibu, CA, announced that it now provides outpatient services to youth struggling with chemical dependency issues, emotional and behavioral health concerns in addition to residential treatment services. More...

MEYERS JOINS EYA
(May 26, 2006) Martha L. Chamberlain, Director, Marketing/ Client Relations, Eckerd Youth Alternatives, Inc., Tampa, FL, 727-461-2990, announced Frankie Meyers, MSW, LCSW as the new Clinical Services Manager of Camp E-How-Kee in Brooksville, FL.

SOLTREKS SUMMER ADVENTURE
(May 29, 2006) Lorri Hanna, Executive Director, Soltreks, Inc., Two Harbors, MN, 218-834-4607, announced the six-week Summer Adventure Program is accepting enrollments for boys and girls, ages 13-17. The first six-week session for boys began on June 5, 2006. Please visit the Soltreks website for additional session dates.

EDVENTURES 2006 CONFERENCE
(May 29, 2006) Chris Yelich, Administrative Director, Education Industry Association (EIA), 800 252-3280, announced the 16th annual EDVentures 2006 Conference, Education Entrepreneurs and their Partners Lead the Way, is in Denver, CO, on July 18-20, 2006.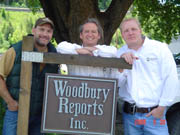 WHO VISITED WOODBURY?
(May 30, 2006) Randy Russell, Founder of SouLore, Sagle, ID, 509-671-1598, Vince Barranco, Owner of Life Designs, Cusick, WA, 509-445-0185, and Greg Hitchcock, Executive Director of Wilderness Quest, Monticello, UT, 888-929-2225, stopped by the Woodbury office for a visit.

PANNELL JOINS ASCENT
(May 31, 2006) Janice Pannell, Director of Admissions/ Marketing, Ascent, Naples, ID, 800-974-1999, dropped by Woodbury Reports, Inc. to inform us she has moved to North Idaho to take a position as Admissions Director of Ascent. She also stated that Claudia Peterson will continue in the admissions department.

AOS ANNOUNCES SUMMER SESSIONS
(June 2006) Academy of the Sierras, Reedley, CA, 866-364-0808, email, announced their upcoming summer sessions. Session 1 runs June 5 - August 13, 2006. Session 2 begins June 26 and runs through September 3, 2006.

HERITAGE YOUTH OPENS TIMPVIEW RTC
(June 2006) C. Lynn Loftin, Administrative Director, announced the opening of Timpview RTC, Heritage Youth Services, Spanish Fork, UT, 877-467-1681, a program for boys, ages 13-17. More...

NATSAP CONFERENCE UPDATES
(June 1, 2006) Jan Moss, Executive Director, National Association of Therapeutic Schools & Programs (NATSAP), Prescott, AZ, 928-443-9505, announced Last Call For Papers for the regional NATSAP conferences scheduled for this Summer and Fall. The deadline for the August 10-11 regional conference in Bend, OR, at the Riverhouse Resort and Conference Center is June 30, 2006. Please visit Strugglingteens.com for a complete list of conference dates and locations.

UPDATE FOR YVONNE JONES
(June 1, 2006) Yvonne P. Jones, PhD, CEP, Educational Consultant, Seattle, WA 206-850-3793, www.yvonnepjones.com called to inform us of her new business number.

LIFE-LINE BEGINS CONSTRUCTION
(June 2, 2006) Shane R. Petersen, MBA, Director of Admissions, Life-Line, Inc., North Salt Lake, UT, 801-936-4000, announced that the construction of a new residential treatment facility is underway. Life-Line is a non-profit family-focused treatment program for troubled teens. More...

ALAN RANCH UPDATES
(June 3, 2006) Paul and Kathy Lithgow, Founders, Alan Ranch, Queens Creek, AZ, 480-688-5003, announced the program is now at full operating capacity with eight boys. Alan Ranch began accepting students in September 2005. More...

SUWS CELEBRATES 25 YEARS
(June 4, 2006) SUWS of Idaho, Shoshone, ID, 888-879-7897, hosted a celebration and open house on June 2-3, 2006, in honor of their 25th anniversary. Woodbury Reports, Inc. President, Lon Woodbury and his wife Denise, attended the celebration. While Denise relaxed in the Spa, Lon set out on his fly fishing adventure and even caught a few. More...

JDA SEEKS NOT-FOR-PROFIT STATUS
(June 4, 2006) Tom Bratter, President, John Dewey Academy, Great Barrington, MA, 413-528-9800, announced the program is seeking not-for-profit status. More...

WELLSPRING UK PROFILED
(June 6, 2006) The Mirror, an online newspaper in the UK, profiled the British response to the July 2006 opening of Wellspring UK, Cumbria England, 0161-408-1264. Wellspring Camps, Reedley, CA, 866-364-0808, are weight loss programs for boys and girls age five and up.

CHRIS NADASI JOINS STEP GROUP
(June 6, 2006) Dani Levine, Founder, The Step Group, Tarzana, CA, 818-996-9880, , announced that with the educational consulting group's expansion to a national market, Dr. Chris Nadasi is joining the team. More...

JULIE RANDALL STOPS BY
(June 7, 2006) Julie Randall, Director of Operations, Living Well Transitions, Boulder, CO, 303-245-1020, and her son stopped by Woodbury Reports, Inc. for a visit.

NEW STAFF AT BROMLEY BROOK
(June 8, 2006) Laura S. Mack, Executive Director, Bromley Brook School, Manchester Center, VT, 866-537-2702, announced two new senior staff persons. Lawrence H. Mutty is Director of Admissions and Dan Verdery is Academic Director. More...

E-SUN-ALEE PROGRAM UPDATES
(June 9, 2006) Candace Bynum, Eckerd Youth Alternatives, Deer Lodge, TN, 256-503-9717, announced that E-Sun-Alee, an outdoor therapeutic program, is now offering a woodworking class to students. Of the many projects students are working on, a new 20-foot Totem Pole is now on display. More...

SUMMER PROGRAM OPENINGS
(June 9, 2006) Pat Ryan, LCSW, MBA, Assistant Director, Wediko Children's Services, Boston, MA, 617-292-9200, announced openings for both boys and girls in the 45-day New Hampshire Summer Program. More...

SOLTREKS UPDATES WEBSITE
(June 10, 2006) Lorri Hanna, Executive Director, Soltreks, Two Harbors, MN, 218-834-4607, announced the website is now updated with more program, staff, information, etc.

WOODBURY STAFF WELCOMES NEW ARRIVAL
(June 12, 2006) Lon Woodbury, Founder, and the staff at Woodbury Reports, Inc., Bonners Ferry, ID, 208-267-5550, welcomes the first of two expected new arrivals. Congratulations to Teri Hinrichs and her husband Jacob on the birth of their bouncing baby girl. Kynsie Rae Hinrichs was born on June 10, 2006, at 9:44 p.m. She weighed 7 lbs. 14 ounces and measured 21 ½ inches. Kynsie has two older sisters, Trystin, 16, Lynnea, 15, and a brother Dakota, 10.

PURE UPDATES WEBSITE
(June 12, 2006) Boyd Hooper, Family180 Consultants, 801-380-3525, announced that Sue Scheff, founder of Parent Universal Resource Experts (PURE), has launched their re-designed website. More...

PATHWAYS PLANS FALL TRIP
(June 12, 2006) Rich and Wendy Simpson, Founders of Pathways, Bonners Ferry, ID, 800-979-0987, announced this year's Argentina Education Adventure, is set for September-December 2006. Five students went to Argentina last year, and experienced cultural & language immersion, did volunteer work, and explored both the Andes Mountains and the Patagonia Region.

ABC NEWS REVIEWS BOOK
(June 13, 2006) ABC News reviewed the book, Come Back: A Mother and Daughter's Journey Through Hell and Back written by Claire and Mia Fontaine. The book describes Mia's problems and experiences with intervention through parent-choice residential boarding schools.

CKC CONSULTANT TOURS UPDATES
(June 13, 2006) Kay C. Ford, Owner, CKC Consultant Tour Services, Crozier, VA, 804-784-3037, announced new tour schedules and changes to current scheduling. Please visit the CKC website for the updated information on upcoming tours.

PARENTINGTEENS.COM
(June 14, 2006) Keith Allen, Webmaster of Parentingteens.com, contacted Woodbury Reports regarding his website. Although the website itself does not have any names of staff responsible for it, the registrant of record for this website is Roger Lichfield of St. George, UT.

SAMUELS NAMED HEAD OF SCHOOL AT AULDERN
(June 15, 2006) Debra Dombrowski, Communications Manager, Three Springs, Inc., Huntsville AL, 256-880-3339, announced Jane Samuel, IEC Liaison for Three Springs, has accepted a position as Head of School for Auldern Academy in Chapel Hill, NC. More...

FORMER FREER CLIENT IN THE NEWS
(June 20, 2006) Julia Andrick, Marketing & Communications Director, Catherine Freer Wilderness Therapy Program, Albany, OR, 800-390-3983, announced that a former student was recognized for his role in updating the Washington State high school curriculum and student leadership roles. The story was published in The Daily News in Longview, WA.

ADMISSION CHANGES AT FAMILY FOUNDATION
(June 20, 2006) Emmanuel Argiros, President, The Family Foundation School, Hancock, NY, 845-887-5213, announced that Jeff Brain, MA, VP External Relations, is Acting Director of Admissions. Brain replaces Joe Lichty, who is returning to Minnesota with his family. Two new Admissions Counselors, Ted Towsley and Kathy Moroney will assist Brain in the Admissions Department.

SEVEN COMPLETE BETTON HOUSE PROGRAM
(June 20, 2006) Michael and Roxanne Losicco, Directors-in-Residence, Betton House, Scranton, PA, 877-723-8866, announced that seven residents successfully completed the six-month program which opened in August 2005. Betton House offers young adults, 18-24, a safe, sober and minimally structured environment.

FREER ADDS ANOTHER ALL-GIRLS EXPEDITION
(June 20, 2006) Julia Andrick, Marketing & Communications Director, Catherine Freer Wilderness Therapy Program, Albany, OR, 800-390-3983, announced another "All-Girls Expedition" begins August 6, 2006.

INTERMOUNTAIN CHILDREN'S HOME CHANGES NAME
(June 20, 2006) Jim FitzGerald, Executive Director, Intermountain, Helena, MT, 800-200-9112, announced an agency name change from "Intermountain Children's Home and Services" to "Intermountain." Intermountain will continue to work with children and families using a developmental relational approach.

BENCHMARK AWARDS SCHOLARSHIP
(June 20, 2006) Shelley Skaggs, Marketing & PR, Benchmark Young Adult School, Redlands, CA, 714-963-4148, announced that a local Redlands Adult School student was awarded the annual $500 Benchmark Scholarship Award for 2006.





© Copyright 2012 by Woodbury Reports, Inc.