From Strugglingteens.com


Seen N' Heard
SEEN n' HEARD - JUNE 2006
May 30, 2006, 11:46



FAMILY SCHOOL IN THE NEWS
(March 5, 2006) Pressconnects.com reported The Family Foundation School, Hancock, NY, 845-887-5213, www.thefamilyschool.com, a state-registered private boarding school, has worked with some 2,000 students from deeply troubled backgrounds, including alcohol and substance abuse, promiscuity, self-mutilation and deep-seated anger.

FLORENCE CRITTENTON HOME UPDATE
(April 20, 2006) Pam Ponich, Director of Operations, Florence Crittenton Home & Services, Helena, MT, 406-442-6950, announced the opening of a new program, The Legacy of Love, for young women up to age 24 that are pregnant and considering adoption.

SOAR FALL SEMESTER
(April 21, 2006) Jonathan Jones, Executive Director, Success Oriented Achievement Realized (SOAR), Balsam, NC, 828-456-3435, announced the Fall Semester 2006 schedule for students, ages 13-18. The Fall Appalachian and Yellowstone semesters run from September 4 to December 3.

E-SUN-ALEE OPENS GIRLS GROUP
(April 26, 2006) Candace Bynum, Referral Relations Representative, Eckerd Youth Alternatives, E-Sun-Alee, Deer Lodge, TN, 256-503-9717, announced that Eckerd has now opened a second girls group just three months after opening the first girls group. More...

GRAND RIVER SUMMER ACADEMY 2006
(April 27, 2006) The Grand River Academy, Austinburg, OH, 440-275-2811, announced the dates for their six-week Summer Academy 2006 are June 25-August 4. The Summer Academy is a co-ed program for students in 9-12 grades.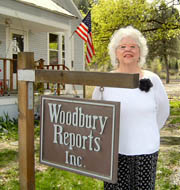 BESSETTE DROPS BY WOODBURY REPORTS
(April 27, 2006) Judith E. Bessette, Ed.D., Compass Educational Consulting, Nashotah, WI, stopped by Woodbury Reports, Inc., for a visit.

HUNTER SCHOOL OFFERS GIRLS PROGRAM
(April 28, 2006) The Hunter School, Rumney, NH, 603-786-2922, email announced that beginning in the fall of 2006, the program will offer a new girls K-8 program. The Hunter School works with students diagnosed with a variety of learning disabilities including ADHD, ODD, anxiety, depression, Aspergers and PPD.

UHS EARNINGS DROP-REVENUE INCREASES
(April 28, 2006) The Street.com reported that Universal Health Services (UHS), King of Prussia, PA, first-quarter earnings fell 11.1 percent due to the hospital closures following Hurricane Katrina, which included hurricane related expenses of $9 million. However, first-quarter revenue rose by two percent from a year-ago to $1.03 billion. UHS owns Ascent, Boulder Creek and Northwest Academy in north Idaho, Provo Canyon and Center for Change in Utah, and King George School in Vermont. More...

PHOENIX OUTDOOR STAFF UDATES
(April 28, 2006) Dan Kemp, Admissions Director, Phoenix Outdoor LLC, Roswell, GA, 877-305-0904, announced the promotion of Alex Kirby, PsyD, to Clinical Director. Phoenix announced the expansion of the program's clinical department, which includes the following additional staff: Karen Glaeser MS, NCC, Mary Flora, MA and Robin Arfa, MA. The press release also said that Clinical Director Jack Kline, left in April to join Aspen Education Group as Executive Director of a new adult drug and alcohol program near Asheville, NC.

KIATOU HIRES LIFE COACH
(May 2006) Gilles Latrémouille, Psyt. Kiatou Wilderness Therapy, Blue Sea, Quebec, Canada, 819-463-0152, announced that in December 2005, Gail Bird Necklace, PLC, joined the Kiatou team as a Life Coach. More...

MCCLURE, MALLORY & BARON OPEN NEW OFFICE
(May 1, 2006) McClure, Mallory & Baron, Educational Counseling and Planning, San Francisco, CA, 415-421-4177, email, announced the opening of a new satellite office in Santa Rosa, CA.

BLACKWATER UPDATES
(May 1, 2006) Blackwater Outdoor Experiences, Midlothian, VA, 804-378-9006, announced that in April, Nicholas Levendosky stepped into the position of Program Director and Tonya Beers-Warman was promoted to Clinical Director in May. Blackwater also announced that its 21-day wilderness therapy program for adolescents and young adults, ages 14-28, has changed its name to Blackwater Therapeutic Expeditions.

MIDNIGHT MOUNTAIN ACCEPTING APPLICATIONS
(May 1, 2006) Midnight Mountain, Boyds, WA, 509-738-9808, email, announced they are now accepting applicants for their 6-week Adventure Semesters from June 1- July 13 and July 20-August 30.

WELLSPRING UK OPENS
(May 1, 2006) Ian Carter, Program Director, Wellspring UK, 07-99-965-7120, announced that Wellspring UK has formally opened for teens ages 12-17. Owned by Aspen Education Group, Cerritos, CA, Wellspring Camps, and Wellspring UK are scientifically based weight loss programs that focus on diet and activity management as well as psychological and emotional issues. More...

STRICKER JOINS CHEROKEE CREEK
(May 2, 2006) Kathy Whitmire, Executive Director, Cherokee Creek Boys School, Westminster, SC, 864 647-1885, announced Sharon Stricker is the new Program Director.

COLLEGE EXCEL OPENS ACADEMIC CENTER
(May 2, 2006) Shelley Dougherty, Admissions Director, College Excel, Bend, OR, 541-388-3043, announced the opening of a new state-of-the-art Center for Academic Excellence. The center is located adjacent to the Oregon State University/Central Oregon Community College campuses and minutes from the College Excel Community House. More...

OPI STAFF UPDATES
(May 2, 2006) Anne LaRiviere, Director of Admissions/ Marketing, Optimum Performance Institute, Woodland Hills, CA, 888-558-0617, announced Janet Martin, PhD, has joined the program as a consulting psychiatrist. She graduates in June from the University of California, Irvine Medical School and is the chief resident at Cedars-Sinai Medical Center in Los Angeles. Dr. Martin holds a doctorate in neurobiology and behavior.

DOUG BODIN INTERVIEWED
(May 3, 2006) The San Jose Mercury News interviewed Doug Bodin, Bodin Associates, Los Altos, CA, 650-937-1111, about the developing drug culture within the Los Altos School District. Compared to last year, the drug and alcohol suspensions doubled at Los Altos High School, and the suspensions at other area high schools rose as well. More...

FREER & SANTIAM CROSSING NEWS
(May 3, 2006) Julia Andrick, Marketing Communications Director, Catherine Freer Wilderness Therapy Program, Albany, OR, announced that West Coast Bank nominated the program for a 2006 Excellence in Family Business Award. Catherine Freer Wilderness Expeditions Supervising Therapist, Brian Bulmore, MA, completed certification as a CADC III, and therapists from Santiam Crossing, 800-390-3983, completed a two-day dialectical behavioral therapy theory and skills class.

LEELANAU SUMMER PROGRAMS
(May 3, 2006) Richard Odell, President, Leelanau, Glen Arbor, MI, 800-533-5262, announced the program will offer a four-week Summer Academy for students entering grades 10-12. Leelanau will also offer a two-week Summer Adventure Learning Camp for students entering grades 6-9.

IVY RIDGE HIRES ED CONSULTANT
(May 4, 2006) Academy at Ivy Ridge, Ogdensburg, NY, announced that Educational Consultant, Robert L. Guarino, PhD, has joined the program to help prepare the school for accreditation with the New York State Education Department and further advance its academic credentials. More...

CONFIDENT LIVING UPDATES
(May 8, 2006) Susan Holden Walsh, Holden McClure PR, 303-449-2526, Confident Living, Inc., Boulder, CO, 800-261-0127, announced the program has expanded to a new location in Menlo Park, CA, and therapist Robin Acker, MFT, has joined the team as northern California Marketing Manager.

KAY FORD STOPS BY
(May 10, 2006) Kay C. Ford, Owner, CKC Consultant Tour Services, Crozier, VA, 804-784-3037, stopped by for a visit and discussed the upcoming CKC Tours.

ANDREW SAPP VISITS WOODBURY
(May 10, 2006) Andrew Sapp, PhD, Clinical Director, Cherry Gulch, Emmett, ID, 208-365-3437, stopped by Woodbury Reports, Inc. to discuss the progress of his program.

AES PARTNERS WITH ADVANTAGE ISS
(May 11, 2006) Chuck Selent, Executive Director, AES Northwest, Inc., Bonners Ferry, ID, 208-267-5807 announced that AES is now networking with Advantage ISS, Inc., in adolescent runaway, investigations and location services. Advantage is a private investigation firm owned by Mike Decker, Bonners Ferry, ID, 208-267-3945. AES has also expanded its service region to a national service.

SUWS OF THE CAROLINAS PROFILED
(May 15, 2006) SUWS of the Carolinas, Old Fort, NC, 888-828-9770, announced in a press release that the program has now been featured in top British documentaries such as a March 2006 episode of "Tonight with Trevor McDonald." The story profiled how a family from the United Kingdom found the help they needed for their daughter at SUWS. More...

CARON FOUNDATION UPDATES
(May 15, 2006) David Rosenker, Caron Foundation, Wernersville, PA, 610-678-2332, announced that the domain name for email has changed from caraonfoundation.org to caron.org.

BUXBAUM JOINS DORE FRANCES
(May 16, 2006) Dore Frances, Owner, Horizon Family Solutions, LLC, Bend, OR, 866-833-6911, announced Susanne Buxbaum, MA, MS, has joined her company. More...

CAMPBELL PARK ACCEPTING APPLICATIONS
(May 16, 2006) Brandi Elliott, Admissions Director, Campbell Park, Kurow, New Zealand, 213-988-0718, announced they are accepting applications for Fall Semester 2006. Campbell Park is a school for boys, age 16 to 19. Applications may be downloaded from their website.

ASCENT TO START SUMMER PROGRAMS
(May 16, 2006) Holly Thompson, Ascent, Naples, ID, 800-974-1999, announced three new summer programs for youth in 2006. The "Female Trauma/ Survivor" program runs June 21 to August 2; a "Middle School/ Five Week" program for ages 11-13, from June 14 to July 19; and a "Diabetic Youth" program, from June 28 to August 9.

GILLMAN TO OPEN NEW PROGRAM
(May 17, 2006) Kreg Gillman, PhD, Owner/ Director, and Denise Westman, Admissions Director/ Marketing, Silverado Boys Ranch, Panguitch, UT, 435-690-9185, announced the fall 2006 opening of a "unique therapeutic boarding school" for boys, ages 13-17.

EYA CELEBRATES 38 YEARS
(May 17, 2006) Martha L. Chamberlain, Director Marketing/ Client Relations, Eckerd Youth Alternatives, Inc., Brooksville, FL, 727-461-2990, announced that on May 16, 2006, Eckerd celebrated its 38th anniversary. Staff and students in eight states reflected on the generosity of Jack and Ruth Eckerd. More...

LOGAN PLANS TO FINISH PHD PROGRAM
(May 17, 2006) Adele Logan, Ed.S., Superior, CO, 303-377-1374, Director of Marketing, Shortridge Academy, Milton, NH, 603-755-3096, announced that with her time at Shortridge drawing to a close, she has been accepted into the PhD program in Counselor Education at the College of William and Mary. She will begin her PhD coursework in August 2006.

FL CHAMBERLAIN CELEBRATES 30
(May 17, 2006) William Doherty, Executive Director, FL Chamberlain School, Middleboro, MA, 508-947-7825, announced that as the school enters into its 30th year of operation, this year's graduating class is the largest in the school's history. More...

NEW START TRANSPORTS EXPANDS
(May 17, 2006) Stephanie Lawson, MA, Regional Manager, New Start Transports, 877-258-2423, announced the opening of a new centrally located Midwest division for the company.

COLLEGE LIVING OFFERS ASSISTANCE
(May 18, 2006) Jill Rickel, MS, National Director of Admissions, College Living Experience, Denver, CO, 800-486-5058, announced the program is now offering students 18 and older assistance with completing their high school diploma when that is needed.

FFS PRESENTS AT CONVENTION
(May 18, 2006) Ann Kozak, Marketing Specialist, Family Foundation School, Hancock, NY, 845-887-5213, announced that family counselor Jill Harmon, LCSW, presented a paper, Parenting the Adolescent with Substance Abuse Issues, at the recent Families Anonymous convention in Atlanta, GA.

BRAIN NAMED RELATIONS VP
(May 18, 2006) Emmanuel Argiros, President, Family Foundation School, Hancock, NY, 845-887-5213, announced the appointment of Jeff Brain, MA, to the newly created position Vice President of External Relations. Brain will oversee the Admissions Department and manages relations between the school and parents, school districts, educational consultants, child advocates and evaluating agencies.

ALLDREDGE SETTLES CIVIL SUIT
(May 18, 2006) Alldredge Academy, Davis, WV, 888-468-1828, settled a civil lawsuit with the family of a student who committed suicide in 2001. According to the press release, Alldredge readily acknowledged its responsibility for the safety of the teen and agreed to pay the family members and estate $1.2 million dollars. More...


NEW OWNER AT SAN CRISTOBAL
(May 19, 2006) Christy Slate-Leach, Admissions Director, San Cristobal Ranch Academy, Taos, NM, 866-918-8383, announced that Dave Johnson, M.Ed. has joined San Cristobal as CEO and owner. More...

NEWS FROM MISSION MOUNTAIN
(May 20, 2006) Colleen Harrington, Assistant School Head, Mission Mountain School, Condon, MT, 406-754-2580, announced that Tim Wilcox, PhD, is the new Clinical Director. In March, Colleen, John Mercer, School Head and four staff members took a group of students for an extended trip to Death Valley National Park. Colleen also announced that MMS has decided to maintain its student population closer to 32 rather than 40.

BORUCA INDIANS SHARE CULTURE WITH ICR STUDENTS
(May 20, 2006) Guy LeGuyonne, Director of Communications, Introspections Costa Rica, 888-280-4227, announced Artist and Boruca tribal leaders, Margarita Lazaro and Giovanni Gonzalez, are offering an ongoing crafts instruction and cultural immersion to students at ICR. Carving ceremonial masks and weaving handloom tapestries gives students an opportunity to compare the 500-year-old Borucan history of upholding cultural values through art and intention with their own lives as part of the narrative therapeutic process.

ROGERS MEMORIAL UPDATES
(May 20, 2006) Beth Baus, National Outreach Representative, Rogers Memorial Hospital, 800-767-4411, announced that the Obsessive Compulsive Foundation's Spring 2006 online newsletter includes an article on family therapy in a residential setting. The article was authored by Bradley C. Riemann, PhD, Clinical Director of the OCD Center at Rogers and Director of Cognitive Behavioral Therapy services at the Child & Adolescent Center, and Katherine Tackes, MSW, who provides CBT services for CAC patients. The article is available online at: www.ocfoundation.org

OPI STUDENTS TRAVEL TO PERU
(May 20, 2006) Anne LaRiviere, Admissions Director/ Marketing, Optimum Performance Institute, Woodland Hills, CA, 888-558-0617, announced that 8-10 OPI students will spend two weeks in Peru later this summer.

© Copyright 2012 by Woodbury Reports, Inc.