june SEEN Ní HEARD
[Items of interest from around the Emotional Growth/
Therapeutic Boarding schools and programs network.]
INFO UPDATE FOR ALLEN INSTITUTE
(April 20, 2005) Suzanne West, Director of Program Marketing Easter Seals Connecticut & Rhode Island, Hebron, CT, 860-228-9438, www.ct.easterseals.com, requested we update the information for the Allen Institute, Hebron, CT, 866-666-6919, plove@alleninstitute.info, www.alleninstitute.info, to include Dr. Peter Love as the primary person to contact.
GLAESERS OPEN ED CONSULTING FIRM
(April 21, 2005) Jim and Karen Glaeser, Glaeser & Associates Educational Consulting, Sandpoint, ID, 208-290-8300, jglaeser@verizon.net, formally announced the opening of their new educational consulting business. www.strugglingteens.com/news/press%20releases/glaeser_associates050427.html
THIRD NW REGIONAL NATSAP CONFERENCE
(April 26, 2005) Erick R. Scheiderman, NATSAP NW Regional Conference Chairman, 541-390-2055, erick@bridgesboysacademy.com, www.natsap.org, announced that plans are underway for the 3rd Annual Northwest Regional NATSAP Conference. The conference is a two-day event at the Riverhouse Hotel and Conference Center in Bend, OR, on August 11 & 12, 2005. For more information contact Erick or call Jan Moss at 928-443-9505.
MACINNES JOINS SANTIAM CROSSING
(April 28, 2005) Sarah Moir, Director of Referral Relations, Catherine Freer Wilderness Therapy Expeditions, Albany, OR, 541-928-2749, sarah@cfreer.com, www.cfreer.com, announced that Brian MacInnes is the new Program Director of Santiam Crossing School. Brian brings over 32-years of experience working with at-risk youth and their parents. Brian formerly worked as the program director for Ascent, a CEDU program.
BIG SKY SUMMER PROGRAM AT EXPLORATIONS
(April 28, 2005) Lorne and Penny Riddell, Explorations, Trout Creek, MT, 406-827-3863, Explorations@blackfoot.net, www.explorationsmt.com, announced the 15th annual Big Sky Summer Program will offer three options: All-girls, younger boys and older boys. The experience is comprised of various outdoor adventure activities combined with individual and group therapy. Another unique option is the Mother & Daughter and Father & Son week long excursion. Lorne also announced that this year's fifth Cultural Immersion Adventure is a five-week trip to Peru from June 30-August 4.
CATHERINE FREER: SPECIAL EXPEDITION
(April 28, 2005) Sarah Moir, Director of Referral Relations, Catherine Freer Wilderness Therapy Expeditions, Albany, OR, 541-928-2749, sarah@cfreer.com, www.cfreer.com, announced that beginning June 26, 2005, three female Freer staff will lead a special 21-day expedition designed to focus on building strength, confidence and the skills necessary for young women to make positive and healthy choices.
ADELE LOGAN FINALLY STOPS BY
(April 29, 2005) Adele Logan, Ed.S., Superior, CO, 303-494-1862, adelelogan@shortridgeacademy.com, Director of Marketing for Shortridge Academy, Milton, NH, 603-755-3096, www.shortridgeacademy.com, stopped by Woodbury Reports for coffee a couple days after a dinner meeting hosted by Shortridge Academy in Coeur d'Alene, ID.

RAMSEY PROMOTED AT KING GEORGE
(April 29, 2005) Karen Fitzhugh, Director of King George School, Sutton, VT, 802-467-1200, kfitzhughphe.kgs@gmail.com, www.kinggeorgeschool.com, announced the promotion of Jerry "Jay" Ramsey to Director of Communications and Outreach. This is a new position at the school to serve the increasing need for information to and from sources outside the school.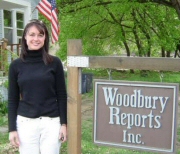 ALDRICH VISITS WOODBURY REPORTS
(April 29, 2005) Amy Aldrich, MA, Integrative Educational Consulting, Seattle, WA, 206-406-7588, amy@integrative-ec.com, www.integrative-ec.com, stopped by Woodbury Reports, Inc. to have her website enhanced on her way home from her Canada office. While she was here, we had her pose for a picture.

CHANGES AT BRIDGES ACADEMY
(May 2, 2005) Erick R. Scheiderman, Admissions Director at Bridges Academy, Bend, OR, 888-283-7362, erick@bridgesboysacademy.com, www.bridgesboysacademy.com, announced the introduction of their Structured Independent Living Program (S.I.L.) designed to assist a student's transition from a residential program to home. He also announced a strategic relationship with Eagle Pines Academy, Smithville, TX, www.eaglepinesacademy.org, which offers a means of helping boys ages 9-17 overcome their emotional, behavioral and/or academic problems.
CENTER FOR CHANGE GOES REGIONAL
(May 2, 2005) Ken Cozzens, Director of Business Development, at Center for Change, Orem, UT, 888-224-8250, kcozzens@centerforchange.com, www.centerforchange.com, announced the first addition to their regional business development team is Barbara Beland, from northern California, who will cover California and the surrounding states. Barbara has many years of experience in a number of settings as a professional liaison with medical and mental health professionals, and can be reached at bbeland@centerforchange.com or 530-906-3321.
GOVERNER SUPPORTS KING GEORGE
(May 3, 2005) Jay Ramsey, Director of Communications and Outreach, King George School (KGS), Sutton, VT, 802-467-1200, jramsey.kgs@gmail.com, www.kinggeorgeschool.com, announced that Vermont Governor, Jim Douglas, supports King George School. During a meeting with Ramsey and Dr. Karen Fitzhugh, Director of KGS, Douglas asserted that he would do all he could to secure the continued existence of the school in its current location and with its current mission.
NIELSEN AND WEIGHT JOIN THE WILLOW CREEK
(May 3, 2005) Mark Ward, Executive Director, Willow Creek School, (WCS) Provo, UT 888-377-2215, www.willowcreekschool.com, announced that two new people have joined his team: Steve Nielsen is the new admissions director and Jared Weight is the new program director. Both Steve and Jared worked at Provo Canyon prior to coming to Willow Creek; Steve has over 20 years of experience working with adolescents in residential care; Jared has over 24.
ACADEMY AT SISTERS OPENS NEW PROGRAM
(May 3, 2005) Chesley Strowd, Admissions, Academy at Sisters, Bend, OR, 541-389-2748, cstrowd@academyatsisters.org, www.academyatsisters.org, announced that J Bar J Youth Services is opening "The Lodge," a new adjunct program to serve as the entry level phase of the Academy at Sisters Program.
EYA RECEIVES FEDERAL GRANT
(May 3, 2005) Rhonda Carpenter, Communications Specialist, Eckerd Youth Alternatives, Inc. Clearwater, FL, 727-461-2990, rhondac@eckerd.org, www.eckerd.org, announced that EYA is creating a new Transition to Independence Program for foster care youth with no realistic options for permanent placement. The program is being financed with a $1.5 million federal grant, sponsored by U.S. Rep. C.W. "Bill" Young (R-Indian Shores, 10th).
RUDMAN/ MAHAN JOIN CHEROKEE CREEK
(May 5, 2005) Cherokee Creek Boys School, Westminster, SC, 864 647-1885, bdeane@cherokeecreek.net, www.cherokeecreek.net, announced that Saul Rudman and Linda Mahan, of EdConsortium, are now consulting with Cherokee Creek to support the school in its next level of growth.
KIDSQUEST WAGON TRAIN
(May 5, 2005) Brandi Elliott, Program Consultant, 951-315-8320, bmelliott@verizon.net, and Dr. Jim Powell, Clinical Director, KidsQuest Wagon Train Program, 951-317-3151, announced they have developed a new short-term intervention program for at-risk adolescents in collaboration with VisionQuest. The six-week, outdoor therapeutic program will offer masters level group/ individual and equine therapy, round pen activities and an authentic wagon train trek in the Coronado Mountains of Southern Arizona. Enrollment begins on June 20, 2005 for the first trek.
NEW WISE PROGRAM AT RIDGE CREEK
(May 6, 2005) Nicole Fuglsang, MA, NCC, LPC, Director of Admissions, Ridge Creek, Dahlongea, GA, 706-867-1720, admissions@ridgecreek.org, www.ridgecreek.org, announced their new Wilderness Intervention for Self-Esteem (WISE) program, a two-week behavioral intervention component for middle and high school students will begin this summer on the following dates: June 10-24, July 8-22, and July 29-August 12.

EVER HIGHER: SELF PROPELLED ADVENTURES
(May 6, 2005) Bill Valentine, PsyD, CC, Co-founder of Ever Higher, LLC, Redmond, OR, 541-504-4748, everhigher@bendnet.com, www.everhigher.com, announced a new venture called Self Propelled Adventures (SPA). SPA combines two of his passions, adventure travel and personal growth, and will provide exciting, self-contained and self-propelled adventures featuring wilderness exploration and ample time for small group and individual reflection.
DALLAS NEWS LISTS WOODBURY AS RELIABLE
(May 10, 2005) In a story on DallasNews.com, staff writers listed the Woodbury Reports, Inc. website, www.strugglingteens.com, and Lon Woodbury, Founder and President, Bonners Ferry, ID, 208-267-5550, lon@woodbury.com, www.woodbury.com, as a reliable resource for parents. Woodbury Reports offers parents and professionals a variety of resources and information to assist with school or program placement of struggling teens. The NATSAP www.natsap.org, and IECA www.iecaonline.com, websites were also included in the list. Free registration required.
www.dallasnews.com/sharedcontent/dws/fea/texasliving/stories/
051105dnlivtroubledteensside.91dbded5.html
SUMMER PROGRAM AT FL CHAMBERLAIN
(May 10, 2005) F.L. Chamberlain School, Middleboro, MA, 508 947 7825, admissions@chamberlainschool.org, www.chamberlainschool.org, announce they are launching a self-contained, seven-week, Dialectical Behavioral Therapy (DBT) module for girls on July 5, 2005. The program provides 24-hour support to help them identify triggers and develop coping skills to manage overwhelming emotions or urges to self-harm, while improving communication and relationship skills.
CHANGES AT AGS
(May 14, 2005) Andy Solow, Vice-President of Gladding & Michel, Inc. Investigative Offices, Burlingame, CA, 415-564-6045, asolow@mindspring.com, www.gladding-michel.com, parent company for Adolescent Guidance Services (AGS), 877-700-3300, info@escort-transport.com, www.escort-transport.com, informed Woodbury Reports, Inc. that Horace Miller is no longer with AGS. All inquiries should be directed to Tina Vitale.
SANTIAM CROSSING ACCEPTS GRADUATES
(May 18, 2005) Sarah Moir, Director of Referral Relations at Catherine Freer Wilderness Therapy Expeditions, Albany, OR, 800-390-3983, sarah@cfreer.com, www.cfreer.com, announced that Santiam Crossing, an adjunct to CFWTE, www.santiamcrossing.com, now accepts students who have successfully completed other wilderness programs on a case-by-case basis, but will give first admission priority to those students who have completed Freer's program.
HITCHCOCK/ LANE VISIT WOODBURY OFFICE
(May 19, 2005) Among the numerous ex-CEDU employees who have dropped by the Woodbury Office since CEDU's Bankruptcy in late April, were Greg Hitchcock, Executive Director of Wilderness Quest, Monticello, UT, 435-587-2801, www.wildernessquest.com, and Bill Lane of Bill Lane and Associates Adolescent Transportation Services, San Diego, CA, 866-492-3400, bill-lane@sbcglobal.net, www.billlaneandassociates.com. Both have worked in the Emotional Growth/ Therapeutic Schools and Programs network for numerous years.

PINE RIDGE SUMMER SCHOOL
(May 19, 2005) Josh Doyle, Director of Admissions at the Pine Ridge School, Williston, VT, 802-434-2161, jdoyle@pineridgeschool.com, www.pineridgeschool.com, announced a new three-week summer school program option. The sessions are scheduled for July 3-21 and July 24 through August 13, which will run concurrently with the traditional six-week summer program. There are a limited number of spaces available.
FAMILY SCHOOL SWEEPS MUSIC FESTIVAL
(May 23, 2005) Paul Geer, Music Director at The Family Foundation School in Hancock, NY, 845-887-5213, www.thefamilyschool.com, reported that the school's competitive choral ensembles swept top honors in the recent North American Music Festival in Washington, DC.
FIFTH ANNUAL NATSAP REGIONAL IN UTAH
(May 24, 2005) Ken Cozzens, Director of Business Development at Center For Change, Orem, UT, 888-224-8250 ext. 150, kcozzens@centerforchange.com, www.centerforchange.com, announced the 5th Annual NATSAP Utah Regional Conference will be held Friday, June 24, 2005 from 8:00 am to 4:30 pm at Utah Boys Ranch. This event, titled "Treating Adolescents: In Pursuit of Best Practices," is sponsored by NATSAP Utah Regional Board; Utah Boys Ranch; Center for Change. More information can be obtained at info@natsap.org.
SUWS WELCOMES DIANA BOYER
(May 25, 2005) Kathy Rex, Executive Director, SUWS Adolescent and Youth Programs, Shoshone ID, 208-886-2565, www.suws.com, announced Diana Boyer is their new Admissions Director. Diana comes to SUWS most recently from Auldern Academy and previously from CEDU. She has built a national reputation for professional excellence among her peers in the education community. "All of us at SUWS feel fortunate to have Diana on our team."
WALKER CENTER CONTRACTS WITH DR. TERRY
(May 26, 2005) Bud Starr, Director of the Walker Center, a residential adolescent and adult alcohol and drug treatment facility, in Gooding, ID, 800-227-4190, help@thewalkercenter.org, www.thewalkercenter.org, announced they have contracted with Dr. William T. Terry, MD, FAACAP, to provide psychiatric evaluations, diagnosis, medication management, follow-up recommendations and weekly staffing for each adolescent in the program. Dr. Terry has extensive psychiatric and academic experience. His resume is available on their website.
Copyright © 2005, Woodbury Reports, Inc. All Rights Reserved.
(This article may not be reproduced without written approval of the publisher.)
---
Return to Strugglingteens.com Home